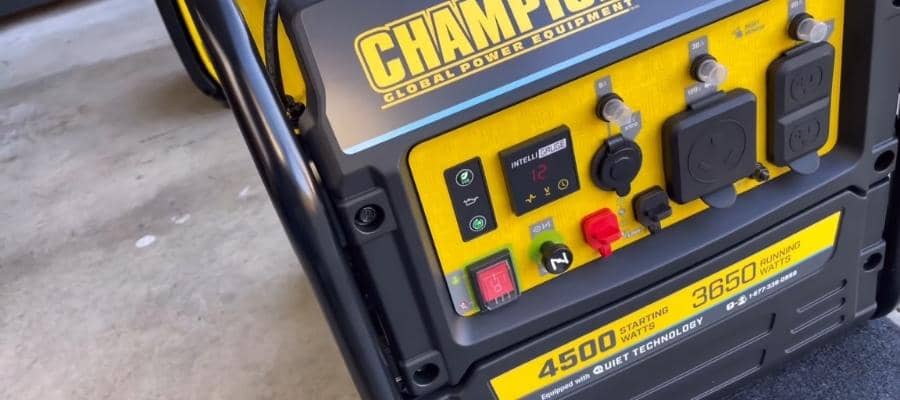 Generators make sure there is electricity wherever it is needed. Campsites often use quiet generators to power the occasional appliance or string of lights. They are useful for homeowners to have as backup power sources or for use with outdoor appliances. Those who own recreational vehicles provide the energy for their mobile homes.
Power generators have come a long way, and now you can buy a small, silent portable model that you can carry in one hand and use anywhere. They can run on a single tank of gas for up to 11 hours and weigh as little as 25 to 30 pounds. The largest of them can generate up to 6,000 watts of continuous power, making them ideal for home use. Some of them come equipped with USB ports for powering your smart devices.
Generators powered by gas, propane, or a combination of the two have open frames with wheels that make them easy to transport. Even though their weight may be in the hundreds, they are balanced on the wheels so that a single person may move them with ease.
Some heavier, larger versions have wheels. Both home and industrial versions are available, with continuous power ratings ranging from the low 2000 watts to the high as 20,000 watts. These can be used to keep the lights on during a power outage or on a huge construction site. They find widespread application in community gatherings, sporting events, picnics, outdoor gatherings, backup power, the workplace, and recreational pursuits.
There are standby generators which can power your whole house in emergencies and can provide up to 24kW of power.
How Does a Generator Work?
Generators usually have four main components: a fueled motor that produces mechanical energy, a starter that uses electric and/or recoil starters, and an alternator that converts mechanical energy into electrical energy.
Generators burn fuel (e.g., gasoline, diesel) that is combusted inside a motor. The combustion creates mechanical energy that is transmitted to an alternator that transforms the mechanical energy into electrical energy. The electricity is then distributed to the electrical outlets on the generator, where you plug in your electrical cords.
Basic Parts of a generator
Main parts of a portable generator
Fuel Tank
Fuel Valve
Choke
Air Filter
Recoil Starter
Oil Filler Cap
Control Panel
Main parts of a Standby generator
Oil Dipstick
Exhaust Enclosure
Air Filter Cover
Control Panel
Data Decal
Fuel Inlet
Fuel Regulator
Oil Filter
Composite Base
Battery Compartment
Types of Generators
There are three main types of generators that you can buy: portable, inverter, and standby. On-site, many different types of appliances can be powered by portable and inverter generators. Pick the right generator size by calculating the total wattage needed to power your devices and the power surge that will cause it to work.
As with the other generator types, standby generators provide backup power to electricity systems in homes, businesses, and factories. All generators are similar, and you need to follow the same safety measures in order to use them safely.
Determining Your Power Needs
It's easy to ask yourself the most important question when you buy a generator: How much power will you need? Having a generator that will work for multiple appliances will help you determine exactly how much power you need.
If you know how you plan to use your generator, answering that question is easy. Manufacturers will provide you with the wattage that you'll need to run your specific appliances and power tools. If you want to run several electronic devices at once from a generator, the total wattage that each device requires will be the minimum you need.
However, there are a few exceptions to this rule.
To start, there is a need to account for the spike power demand of appliances with motors. It's important to note that the first few seconds of use, when the motor is starting up, have a significantly higher power demand. Therefore, all generators have what's called a "surge rating," or the maximum amount of power they can produce in a short period of time to get motor-driven appliances started.
The second caveat is that you shouldn't always operate your generator at or near its maximum wattage. Instead, leave yourself some wiggle room in the power of your generator by adding the running wattages of all the appliances and gadgets you want to plug in.
The primary rationale for this is that constant operation at close to maximum power can significantly increase the generator's engine wear and If you get as close to running your generator at its maximum power, your generator will be louder and will use more fuel.
Estimating Wattage Requirements
If you're not sure how you'll put your generator to use, if you plan to use it for a variety of tasks, if you don't currently have access to all of the appliances you'll need to run off of your generator, or if you plan to use it in the future, don't fret. A generator's power requirements can be estimated in a few different ways.
Numerous online calculators can help you determine the appropriate size generator for your home or recreational vehicle.
A 2,000-watt generator is enough for most home and outdoor uses, including powering modest appliances when camping or at a field project.
In the event of a blackout, a 3,000-4,000-watt generator will provide sufficient electricity to keep your home's vital equipment operational. You may also use it to run a tiny air conditioner in your RV.
Generators with more than 10,000 watts of electricity are often used for longer power outages, larger homes, and construction sites.
Best Fuel for your Generator
Although gasoline is the most common fuel for generators, it is far from the only one.
The optimum fuel to use in your generator depends on its intended purpose and the fuels you have ready access to.
Dual fuel generators are the most popular variation on the traditional gasoline generator. Many of these generators allow you to switch between gasoline and propane without turning the engine off.
Propane, in contrast to gasoline, could be safely kept for a long time. As a result, if you're concerned about a prolonged power outage at home, it makes for a great option.
Other than the higher purchase price, dual fuel generators have few drawbacks. A dual fuel generator could save you money in the long run if you use it with propane instead of gasoline.
The fuel flexibility of dual fuel generators is increased to tri fuel status by the addition of natural gas. You should expect a decrease in power production from your generator if you run it on natural gas rather than the other two fuels.
However, if your home is connected to a natural gas line, you can use that to fuel your generator during a blackout. As long as the buried lines aren't broken, gas service can continue even if the power goes out.
Last but not least, diesel generators can operate reliably for thousands of hours with only occasional servicing. Diesel generators, however, are not as prevalent as gasoline generators because they are both noisy and more expensive.
Conveniences Modern Generators Offer
Wheels – Many lightweight choices are available, saving you the trouble of lifting a bulky piece of equipment.
There are handles on the side of the unit, so you can easily move it from one place to another without exerting too much physical effort.
Newer types often include convenient push-button or even remote-controlled starters in addition to the traditional pull-cord.
Automatic idle control (idle) helps generators run at a consistent RPM even while under severe loads. This lowers the noise of the machine and helps it use less gas.
Shutdown at low oil levels – When oil levels drop too low, the machine turns off automatically to protect the engine.
Some modern generators use noise-reducing mufflers or other noise-reducing technology, allowing them to operate in relative silence.
USB ports – In addition to standard electrical outlets, many new generators now feature USB ports for charging mobile devices and other electronics.
CARB Certification
An additional factor to consider when shopping for a generator is whether or not it has been approved for use in the state of California by the California Air Resources Board (CARB).
Not all generators are CARB-approved since the agency has stronger standards for engine emissions than the EPA.
Only CARB-approved generators can be sold in the Golden State.
Even if you don't live in California, it's always a good idea to see if something has been certified by the California Air Resources Board (CARB). CARB certification indicates that the generator in question is less polluting than its competitors.
Generator Maintenance
If maintained correctly, generators can run for decades. Changing the oil in your generator is the single most critical thing you can do to maintain it and keep it running smoothly. The engine oil in a generator should be replaced after first 30 hours of operation and again after 100 hours of use.
Moreover, you should never let old petrol sit in the tank. Damage to your engine is guaranteed if you use gas that has been sitting around for more than a few months.
You should thus drain the carburetor before putting the generator away for the winter or for an extended period. This may be accomplished with the push of a button on certain generators, while on others you'll have to use up all the fuel.
The internal engine parts can be kept oiled by running the generator once a month, if at all possible.
When using your generator, there are a few more considerations you should be aware of.
The first step in refilling a generator is to wait until it has cooled down completely. The addition of gasoline to a hot generator poses a serious risk of explosion for both the operator and the machine.
Second, it's important to remember that overusing your generator's electricity or running it dry on a regular basis might ruin the motor. Take note of the wattage needs of the devices you intend to power with the generator, and plug in the ones with the highest surge needs first.
Finally, if your generator has an electric starting battery, make sure to maintain it charged. If that fails, use the generator's pull-cord starter.
How Loud are Generators?
The new breed of inverter generators is helping to dispel the stereotype that generators are annoyingly noisy.
A typical inverter generator that generates between 2,000 and 3,000 watts of power often emits 50 dB of noise at 25% load, which is the same low level of noise as a conversation.
You should be aware that as you get closer to the generator's maximum power output, the noise it makes will grow. Some inverter generators, which have a quieter starting noise of 50 dB, can go as loud as 70 dB when running at full throttle.
Use caution if running your generator late at night or near a campsite, as conventional and much larger generators can produce noise levels of up to 80 dBA.
Paralleling Generators
Connecting two or more of the same inverter generators in parallel will increase the total amount of power supplied by that outlet by that amount.
A parallel connection kit, typically offered by the maker of your inverter generators, will allow you to achieve this. Due to the integrated computers found in inverter generators, you must utilize a parallel connection kit designed for use with two generators from the same manufacturer.
The kit includes everything you need to hook up two generators in parallel via the main outlet panel. You can now power your sizable appliance by turning on both generators and plugging it into one of them.
Connecting a Generator to Your RV
If your generator has a 30-amp RV-ready outlet, connecting it to your RV is simple. These outlets are specifically intended to connect to your RV's 30-amp inlet using any manufacturer's transfer cord.
If your generator has a 120-volt/240-volt twist-lock outlet rather than an RV-ready port, you'll need an adapter or a transfer cable built for this sort of outlet.
If your generator lacks one of them, you will be unable to connect directly to your RV's 30-amp input. If you want to power your RV's appliances with 120-volts, you'll need to plug them into the generator's
Connecting a Generator to Your Home
Portable generators can power your home's electronics by simply plugging in an extension cord from each device. Although this is a quick, cheap, and easy fix, it can be inconvenient during longer or more regular power outages.
A transfer switch is used to connect a generator to the electrical grid so that it can power a dwelling. These can be pricey, and you might require an electrician to plug it into your existing circuit breaker if you don't know what you're doing.
Simply connect the 120-volt/240-volt outlet on your generator to the transfer switch you have already installed.
How Long Will a Generator Run on A Full Tank of Gas?
Due to differences in fuel tank capacity and engine efficiency, generators have widely varying run times.
Generators estimated running times often range from a few hours to 15 hours or more, with most estimates based on a 1/4 or 1/2 power load.
Choosing a generator based on its runtime is crucial if you intend to use it continuously or for long stretches of time. It's important to remember that the generator's run time will vary depending on how closest you run it to its rated power output.
How to Ground a Portable Generator? Do I Need To?
Though portable generators are fairly safe in comparison to other motorized tools, there are still important safety precautions to bear in mind if you wish to ground one. Finding out if your generator has to be grounded and then figuring out how to accomplish so are two of the most critical steps in generator safety even if you are running a battery operated indoor generator.
Does the portable generator need to be grounded? – It is determined by the application. You don't need a ground rod if you're merely utilizing extension cables (If you have a portable bonded neutral generator)
You must connect your generator to a ground rod when connecting to an electrical panel (residential electrical system, transfer switch, etc.). Ground rods must be driven into the ground and then linked to the generator's ground lug via a ground wire. The rod must be inserted at least 8 feet into the earth.
We highly advise that you examine and follow all relevant federal, state, and municipal grounding requirements.
What Is Grounding?
The linking of the electrical system to the ground is known as grounding. The NEC classifies ground as "the earth" and specifies that grounded electrical systems must be connected to earth in such a way that the voltage caused by thunder, line spikes, or unintended contact with greater lines is limited, and the voltage to earth is stabilized during normal operating conditions.
Importance of Proper Grounding and Bonding for Electrical Systems
When electricity flows through a series of wires, it is always looking for a way to dissipate energy by returning to a ground. Electricity passes through "hot" wires to a series of neutral wires in a typical electrical system, such as your generator's.
However, if the regular electrical circuit is disrupted, electricity will flow along the path of least resistance. If your generator isn't grounded, the path of least resistance may enable electricity to go where it shouldn't, resulting in electrocution, fire, or other hazardous scenarios.
Grounding creates a low-resistance backup path for electricity to flow. Because many electrical systems' backup paths run directly into the ground, where they might offer relatively minimal risk, the term "grounding" is adopted.
Bonding Vs Grounding
Generators and other electrical systems have unique bonding and grounding requirements. The connection between an electric circuit or equipment and reference ground, which includes the generator's frame, is referred to as grounding. The purposeful connection between the neutral grounded circuit conductor and the portable generator's frame, is known as bonding.
As a result, proper neutral conductor bonding to the generator's frame is also a problem for the equipment's safe operation. The proper bonding of a power receptacle's neutral terminal may be validated by testing by a professional electrician with the appropriate equipment, and the resistance should measure near zero.
Grounding Requirements for generator
Article 250 of the NEC specifies the grounding requirements for generators linked through transfer switches.
If you're using a portable generator, be sure it's grounded. A portable generator's frame does not need to be grounded, and the frame might act as the ground:
The generator frame is bonded to the noncurrent-carrying metal portions of equipment such as the fuel tank, internal combustion engine, and generator housing, as well as the equipment grounding conductor terminals of the power receptacles that are part of the generator.
Instead of connecting to a grounding electrode system like a ground rod, the generator's frame serves as the grounding electrode.
A transfer switch must be authorized for use and installed by a qualified electrician in accordance with the manufacturer's installation instructions.
How to Ground Your Portable Generator?
Most people believe that grounding a generator is a difficult task that should be left to the experts. That's not the case, though. Actually, chances are that you have pretty much everything that you'll need for the job. All of these can be easily found both online and from your local Home Depot.
Tools & equipment list for grounding your generator:
The majority of people believe that grounding a portable backup generator is a difficult task that should be left to specialists. However, this is not the case. Actually, you probably already have almost everything you'll need for the job. They're all readily available both online and at your local Home Depot.
To ground your portable generator, you'll need the following items on hand:
Grounding Rod — A grounding rod is meant to be pushed into the ground and safely dissipate any electrical current. A copper rod of at least four feet in length is required for most portable generators, while a longer copper rod can make driving it deeper into the ground.
Grounding Wire — Grounding wire will link your generator's grounding bolt to the grounding rod. The length of wire you'll need is determined by the distance between your portable generator and the copper rod. Make sure to leave some additional wire on hand in case you need to drive the rod into the ground.
Hammer — To push the copper grounding wire into the ground, you'll need a hefty, blunt tool like a hammer. A shovel depending on the terrain, may also be useful.
Pliers and Wrench — Wire strippers, Pliers and Wrench will be needed to strip the copper grounding wire and attach it to the copper grounding rod and the bolt on your generator.
Ground a Generator — 3 Steps
Step 1 — Hammer the Grounding Rod
The copper rod should be buried at least 8 feet deep or pounded into the ground. 8 feet is standard for any generator. This depth guarantees that any electrical discharge from the grounding rod does not electrocute anyone on the ground. The rod may be pounded in at an angle if you're in rocky or difficult terrain.
Step 2 — Connect the Copper Wire
Remove around six to twelve inches of insulation from one end of the copper wire using a wire strippers or plier. Then, using your pliers, wrap the wire on the top of the grounding rod, making sure it is snugly twisted around the rod.
Step 3 — Connect the Generator
Using the other end of the copper wire, connect the generator to the copper grounding rod. When you do this, make sure the generator is switched off.
Find your generator's grounding bolt and remove the nut slightly. Wrap the copper wire around the grounding bolt with your pliers after stripping the end one to two inches. When you're finished, tighten the nut to keep the wire in place.
Finally verify the connection by testing. The connection between the generator's frame and the grounding terminals of copper rod is important for the equipment's safe operation. Testing by a qualified electrician with the appropriate equipment can verify the connection. The ohmic resistance should be around zero and not fluctuate, as this suggests a loose connection.
12 Things to Look for When Buying a New Generator
Whether you're planning for an emergency, need to power a job site, or want to use a portable generator for recreational purposes, there is a lot to think about when buying a portable generator.
To assist you filter through the plethora of possibilities available, we've compiled a list of what our expert team looks for when looking for a new one.
What to Look for When Buying a Generator?
1. Types of Generators
There are several types of generator to choose from. Home generators are permanently installed, can run on natural gas or propane, and turn on automatically during a power outage.
Depending on the size of the generator, it can be carried and can be found in a variety of sizes. Some should be left on your property as a backup power source, while others are better suited for transportation to the tailgate party.
Indoor generators a.k.a portable power stations have big batteries that store electricity for when you need it, making them the only alternative for someone who lives in an apartment and cannot run a generator securely outside.
2. Fuel Type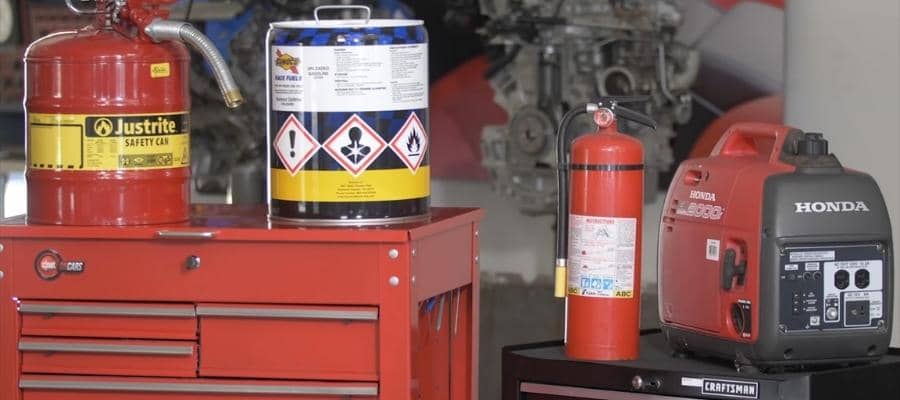 The most prevalent are gas generators. Fuel is plentiful, except during the panic preceding up to and following major hurricanes. Diesel generators offer superior fuel efficiency if you want to spend the extra money. You will also get rid of the blocked carburetor, which seems to get stuck at the worst of times. Diesel is a good choice if you're looking for a whole-house generator. Diesel is not always easy to come by as gasoline.
A propane generators or dual fuel generators are another alternative. If you want to use a more eco-friendly fuel source and don't mind it being a little more complicated, then it's a good option.
The advantages of battery-powered indoor generators include being able to run quietly, eco-friendly, and being able to recharged via solar panels. But they're expensive, take a long time to charge, and sometimes don't have enough power.
3. Surge Watts and Outlets
It's important to figure out the size of generator that will work best for your needs before you buy one. That means you'll need to figure out how much power you'll need. Your refrigerator may only require 700 watts of power to operate, but what happens when it requires 2100 watts of starter power? Ensure that you know the startup and running wattages you will need to power the equipment you plan to connect to the generator.
The other side of the question is what kind of outlets you require. Smaller inverter generators will typically have two 120V AC outlets and possibly two USB ports. When you reach 4000 watts, you'll notice 240V plugs appear alongside more 120V outlets. If you want an electrician to wire your generator directly into your panel, you'll need a 240V plug. Because you will be using your generator outside, check for one with GFCI protected outlets.
4. Total Harmonic Distortion (THD)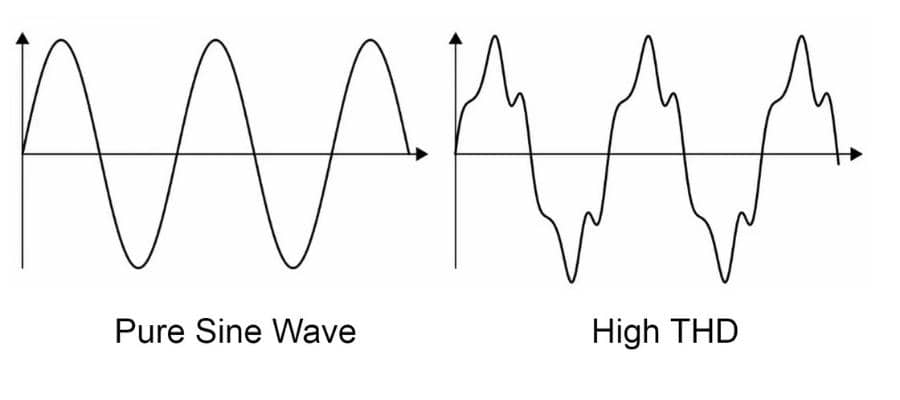 The waveform is important if you intend to run sensitive electronic devices such as laptops or lab equipment. In general, total harmonic distortion should be less than 6% to avoid harming electrical circuits. It is a more consistent and predictable level of voltage, often known as "clean power" or "pure sine wave."
Pure sine wave generators are more expensive and typically seen in lower-wattage models with few exception.
By the way, not all battery inverters have low THD. Some generate square waves. If you know you require clean power, look into the requirements.
5. Occasional or Regular Use
Most generators come with a consumer warranty that covers you for several years. Any renowned brand will suitable for emergency or recreational use.
If you have a team that requires a generator almost every day, you'll be better off searching for a model with a genuine commercial engine. Not only will it be a better fit, but you'll also probably get a warranty that lasts a lot longer than a year. The obvious disadvantage is that these are usually more expensive.
6. Noise Level
A silent design is possible for smaller generators. There are some that are quieter than usual. If you're tailgating or camping in an area where generators are allowed, your neighbors will enjoy it. There isn't much in the "less noise" class by the time you get to the 4500 watt class. The source of the fuel is a factor to consider. Diesel engines make more noise than gas engines.
7. Fuel Tank & Runtime
If you have a larger fuel tank you can go longer. That is clear. A fuel tank can provide up to 8 hours of operation at 50% load for most generators. If you use less power, you'll run longer; if you use more, the fuel will run out faster. It will become heavier with a full tank of gas though. There are also gas and plastic fuel tanks. Both types have advantages and disadvantages. We like plastic because it doesn't have corrosion issues.
8. Manual or Electric Start
If you prefer pulling a recoil rope on an engine, you should avoid the electronic start. If you can afford the extra cost, electric start engines are an excellent choice. Most portable generators still use lead-acid batteries similar to the ones found in automobiles. There are some with there are some lithium-ion. Make sure the battery is fully charged before you use it. If the charging point is left plugged in between uses, most generators will be fine.
9. Electronic Fuel Injection (EFI)
Electronic Fuel Injection is an excellent feature to have. Carburetors are no longer required. You can still have problems if you do not maintain it, but none of them will be caused by a clogged carburetor. Your generator will start easily in the winter.
10. Carbon Monoxide Detection
Several manufacturers have generators with carbon monoxide (CO) detectors in them. There is a plan to implement it across their entire portfolio by Honda. If the levels of carbon monoxide around the engine become too high, these can be used to turn it off. They are more effective in preventing CO-related illness and death than the ones you put in your home. The industry appears to be moving in the direction of integrating this feature in newer models.
11. Hook Bar
If you are buying a portable generator for commercial or industrial use, you will most likely need to move it to a higher floor at some point. A lift hook bar can provide a significant advantage that can save you time and effort.
12. Wheel Kit
Despite the fact that generators are large and heavy, not all of them include a wheel kit. Check twice before you buy one because some stores will require you to buy it separately. There are generators available with two or four wheels. You can buy aftermarket generator dolly kits to add wheels to a model that doesn't have them.
Conclusion
You can use a generator to keep your home going during a blackout, to power your recreational vehicle or camping trip, or to provide a source of energy for construction sites or special events.
Keeping all these potential applications in mind, it's crucial to pick a generator that's well-suited to your demands and flexible enough to accommodate future needs.
Check out our in-depth shopping guides for additional details on the various generator types and recommendations.