Total harmonic distortion (THD) is the amount by which a voltage or current waveform is distorted. A portable generator's efficiency is reduced by high THD. Low THD generators are required for sensitive electronics, we recommend you look for inverter generators to run these as they have lower THD levels.
THD in portable generators typically ranges from 1-2% to 25%. Generators are thought to produce clean power with less than 6% THD. THD is typically lower in inverter generators (even in largest inverter generators) and smaller generators than in larger generators.
THD measures the amount of distortion in a wave or signal. Consider it a percentage error. Let me use a graphic to demonstrate this concept. A generator generates alternating current (AC) by generating a sine wave. As the motor spins, it produces a wave similar to the one shown here on the left.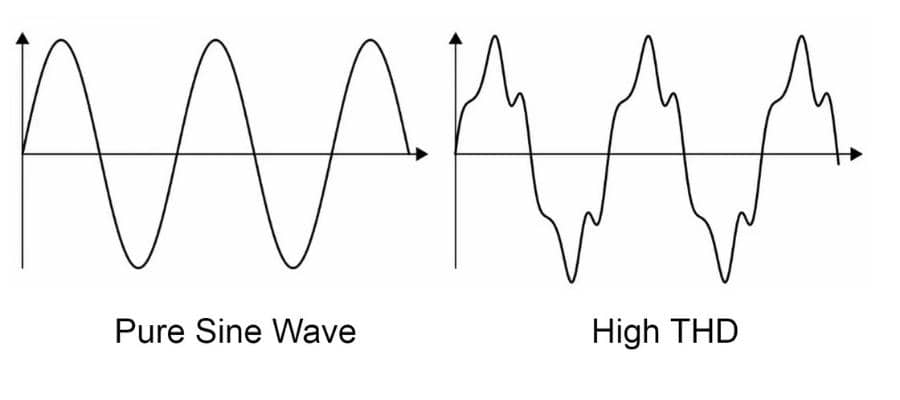 In reality, the sine wave produced by the generator looks more like the image on the right. Can you tell the difference between an ideal sine wave and a distorted sine wave?
The higher the percentage of THD, the greater the distortion in the wave! In other words, the greater the percentage of error. Electronics, such as televisions, computers, video game consoles, networking equipment, etc., are particularly vulnerable to the negative effects of high harmonic distortion.
So, consider this: do you want to use your generator to power sensitive electronics when the power goes out? If the answer is yes, you should seriously consider purchasing a generator with a THD percentage of less than 5%. Low THD also implies a higher power factor and a lower peak current, resulting in maximum power efficiency. Here are our top choices for best generator with low THD (total harmonic distortion).
If you want multifuel option we have a separate list of low THD dual fuel generators you can check.
Top 6 Best Low THD Portable Generators
Champion 8750-Watt DH Series Open Frame Inverter

Runtime: 10.5 hrs. @ 25% load

WEN 56380i Super Quiet Portable Inverter Generator

Runtime: 8.5 hrs. @ 1/2 load

Westinghouse WGen12000 Home Backup Generator

Runtime: 11 hrs. @ - load

Honda EU2200i 2200-Watt Portable Inverter Generator

Runtime: 8.5 hrs. @ 1/2 load

Westinghouse iGen4500DF Dual Fuel Inverter Generator

Runtime: 18 hrs. @ - load

Westinghouse WGen20000 Large Portable Generator

Runtime:17 Hours @ 25% load
What Influences Generator THD (total Harmonic Distortion)?
THD is primarily influenced by alternator architecture and excitation, as well as frequency and voltage regulation circuitry.
The more information you have in place for any of these aspects, the better (lower) the THD values, but the higher the cost.
Although there are numerous precise explanations for these factors but the average customer can consider a few simple considerations for their own personal needs.
It goes without saying that if you buy a high-quality alternator, it will be combined with a high-quality engine and controls. Because of the changes throughout the machine, it will cost more, sometimes much more, double or triple the cost.
The majority of non-commercial generators are built to a budget. Because they are used infrequently, they are constructed with the least amount of material or to the bare minimum of construction standards in order to keep expenses low. As a result, the quality is lesser and the distortion is often higher.
If you intend to use the generator on a regular basis, you should invest in a higher-quality model.
Do You Really Need a Low THD Generator?
If your appliances have a lot of processors and LCD panels, you'll want to seek for high quality power output. In general, if your appliances are not overly sophisticated, you may get away with greater THD values, which are typical of the vast majority of non-inverter generation.
Keep in mind that as you get closer to the generators' maximum output, it is common for cheaper units to lose control of the voltage and frequency. They are simply not designed with the same care as high-quality devices. So not only will you have a higher THD, but you may also lose voltage and have problems with frequency because the generator engine can't keep full rpm at high load.
For power tools and most appliances, low-quality electricity is acceptable for occasional use. Less than 10% THD. As your demands for additional power increase, you will need higher quality power. (THD 6% to 9%). Clean power of the highest quality is required for your more sensitive gadgets such as LCD panels, TVs, and other microprocessor appliances. (THD 5%, but aiming for 3%)
Generators with Low THD -Detailed Review
1. Champion Power Equipment 100520 8750-Watt DH Series Open Frame Inverter
The Champion 100520 open frame inverter generator can deliver low fuel consumption and high performance with less than 3% THD and a 420cc four-stroke large engine. This is one of the largest portable generators available with a low thd. This large inverter generator with low THD has an 8750-watt starting power and a 7000-watt running power, which is quite high for an inverter generator.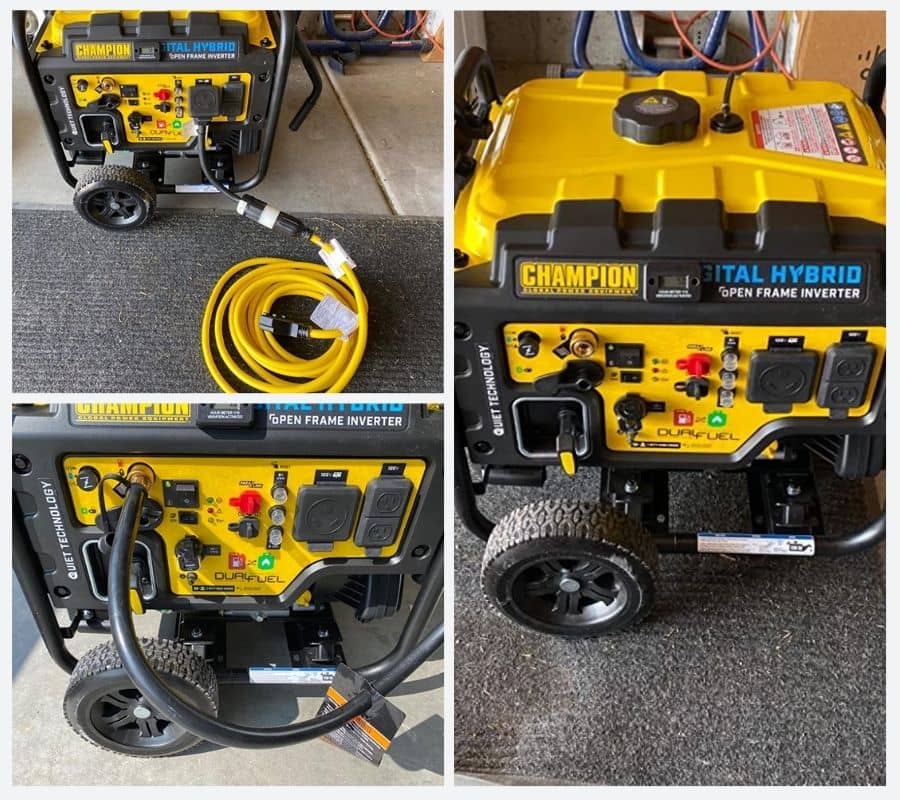 Champion low thd generators are 30% quieter and 25% lighter than comparable inverter generators. It's a low-cost power solution with cold-start technology for a quick start in bad weather. Its engine produces 8750 starting watts and can operate at 25% load for up to 10.5 hours.
This 8000 watt generator with low thd generates only clean power and includes a number of outlets, including a DC automotive-style outlet, a dual USB converter, and battery-charging cables.
2. WEN 56380i Super Quiet 3800-Watt Portable Inverter Generator
If you're seeking for a good generator with pure sine wave with a THD of 1.2 percent (THD) that won't cost you an arm and a leg, you might have found it.
It is sold for a fraction of the cost of more expensive 3000 watt inverter generators like the Honda EU3000is. This alone could easily turn it into a genuine winner.
The generator appears to be very sleek and modern. It is roughly the same size as the Champion 3400-Watt Dual Fuel RV Ready Portable Inverter Generator, another popular option. It is also significantly lighter and smaller than the Honda EU3000is.
The wheels and a cozy candle make moving around even easier. This inverter generator, with a noise level of 57 dBA, can be started with both a traditional pull-start mechanism and a simple electric starter.
The 56380i can run for approximately 8.5 hours at 50% load with a full tank and a fuel capacity of 2.2 gallons (fuel consumption: 0.26 GPH).
3. Westinghouse WGen12000 Home Backup Portable Generator
The Westinghouse WGen12000 portable generator is ideal low thd home generator during a power outage. You should have no trouble keeping all of your electrical equipment powered up in an emergency with 15,000 peak watts and 12,000 running watts.
The Westinghouse 12000 watt generator with low thd is a true heavyweight at 352-pounds. The generator is supported by a heavy-duty metal frame with sturdy fold-down handles and a wheel kit (albeit with plastic wheels). The Westinghouse 713cc OHV V-twin engine is quite remarkable.
Large portable generator with low thd, the WGen12000 Westinghouse generator with low thd is equipped with a 10.5-gallon gas tank. This is enough fuel to keep the generator running for an astounding 11-hours at 50% load. That's 6,000 watts of power being supplied constantly for 11-hours.
When THD specs are compared to other conventional generators, it is clear that the 12,000W Westinghouse generator has a far superior alternator to the rest.
A good quality inverter provides an AC current with less than 3% THD in some situations. Most standard portable generators (without an inverter) have a THD specification of up to 25%.
At 5% THD, the Westinghouse WGen12000 is one of the few gas generators that can compete on equal terms with inverter models.
4. Honda EU2200i 2200-Watt 120-Volt Super Quiet Portable Inverter Generator
The Honda EU2200i is the best ultra-portable generator with low harmonic distortion (less than 3% THD) hands down. The EU2200i has a 0.95 gallon fuel capacity and can run for up to 8.1 hours on a full tank. We tested the runtime, and it's pretty close (8.0 hours). Fuel consumption is approximately 0.12 GPH. Under full load, we measured noise at 64db at 30ft.
The engine is the most powerful component. The EU2200i is powered by Honda's best engine, the GXR120. Because it is a commercial engine, it can operate quietly, smoothly, and efficiently. The engine is small in comparison to other engines, but at 121cc, the GXR120 is unrivaled. It ensures that the EU2200i has high power support at all times.
5. Westinghouse iGen4500DF Super Quiet Dual Fuel Portable Inverter Generator
The Westinghouse iGen4500 is an excellent dual fuel generator with low thd that can power RVs and campers with two air conditioners. This is one of the list's only midsized dual fuel generator with low thd. This fuel-efficient, whisper-quiet generator has 3,700 running watts and 4500 peak watts, a 120V 30A (TT-30R) outlet for RVs and campers, push-button electric start, and an easy-to-transport telescopic handle with rear wheels. It will be dual-fuel capable, meaning it will be able to run on either propane or gasoline.
The iGen4500 Dual Fuel inverter produces clean power, allowing sensitive electronics such as computers, televisions, tablets, and cell phones to function safely. The iGen4500 Dual Fuel has remote start, which allows you to start the generator from within your home or RV using a key fob. The control panel also includes a Push Button Start option.
The LED Display shows the available run time, fuel level, power output, and voltage. Other indicators include Electric Output, Fuel Level, Electric Output, Overload Indicator, and Low Oil Indicator. CARB regulations are met by this generator.
6. Westinghouse WGen20000 Home Backup Portable Generator
The Westinghouse WGen20000 is the biggest (22000-watt low thd gasoline generator) and most powerful portable generator on the market. The WGen20000 generates a clean sine wave: with 5% Total Harmonic Disruption (THD), delicate electronics can be safely plugged into its AC outlets.
The 999 cc OHV V-Twin engine, which runs on gasoline, is at the heart of the Westinghouse WGen20000. It has a 120/240V output and a running wattage of 20000W and a peak wattage of 28000W.
This generator has a noise rating of 74 dBA and is powered by an easy-to-use electric starter.
The WGen20000 has a fuel capacity of 17.17 gallons and can run for approximately 11 hours at 50% load with a full tank (fuel consumption around 1.56 GPH).
Portable Generators with Low THD – FAQs
How Is Total Harmonic Distortion Minimized?
Nonlinear load is the most common cause of THD. THD can be reduced in a variety of ways. Among these include limiting losses within a generator, lowering line losses in an electrical line, and converting magnetic energy first into mechanical energy, then into electrical energy.
Is There an Acceptable Level of Total Harmonic Distortion for A Generator?
If you work in the electrical business, 5% total harmonic distortion is considered acceptable. Generators with more than 5% THD are not suitable for commercial or industrial applications where power quality is critical.
What Causes a Generator's Harmonic Distortion?
When some of the mechanical energy from a generator's rotor is turned into electrical energy by its stator rather than being fed back into its power source, harmonic distortion occurs.
As a result, a portion of the energy is converted into heat rather than effectively delivering power to your load. As a result, a generator's output signal has somewhat lower efficiency and greater noise levels.
Summary
A generator's Total Harmonic Distortion indicates the possibility of difficulties with high-end electronics or those considered sensitive. The higher the THD, the greater the risk of harm.
Generator power is not of the same quality as utility power. A high THD can indicate that the power is not being recognized by the controller of a high-end electrical equipment.
Because most manufacturers do not publicize this data unless it becomes a selling point, the 2 to 25% range is considered typical. You can use any of the low-threshold generators listed above.
Read Next: