Lights, refrigerators, freezers, television, air conditioning, and slum pumps can all be affected by power outages. Portable generators (gasoline, propane, dual fuel) or solar powered power station can be bought to provide substitute power to your appliances.
Also, if you're going camping and want to power your mini fridge, router, fan, laptops or smartphones, and tv, you'll need backup power.
But what size generator do you need to run a refrigerator & freezer? The generator must be of sufficient size to start the appliances and equipment you wish to use.
We would recommend at least 3500W generator for most household refrigerator and freezer and if you are living in an apartment or want to place the generator indoors, we recommend that you use battery powered indoor generator for refrigerators.
But the generator must be of sufficient size to start the appliances and equipment you wish to use.
People need their refrigerator and freezer even in the event of a power outage. During a blackout, dual fuel or battery powered generators are frequently used to power your average refrigerators and freezers.
Portable power stations may be charged using solar panels and are best used indoors, such as in apartments, whereas dual fuel portable generators are best used outdoors, such as while camping or tailgating in an RV.
The most important question for anyone considering using a generator to power a refrigerator is what size generator do i need to run a refrigerator and freezer?
What Size Generator Do I Need to Run a Refrigerator and Freezer?
To begin, determine how much power your refrigerator or freezer consumes. Older appliances can consume up to twice the amount of energy that a newer, more energy-efficient model of the same size requires. Let's start by determining the size of generator you'll require. Frequently, a sticker detailing the refrigerator's power requirements may be found inside the door.
The number of amps required by your appliance is what you're looking for. 6 amps is the label on this one. Assuming that the appliance is plugged into a regular 120-volt wall outlet, multiply the 6 amps by 120 V to get the average running watts, which in this example is 720 watts.
Refrigerators and freezers require an extra surge of power when the compressor starts, which is usually 3-4 times the running watts. So,
Can a 2000 Watt Generator Run a Refrigerator?
Yes, if it has a starting watt of 500 or less. A typical refrigerator uses 700 watts and has a starting wattage of 2,100 watts. That means the total starting wattage is 2,800W. Can this fridge be run by a 2,000W generator? It is not going to happen. A 3,000W generator, on the other hand, will do.
Starting watts, not running watts, is the bottleneck.
Using this logic, the generator to run refrigerator and freezer can be categorized in to three size groups.
1,500W generators – For all mini-fridges and most Energy Star-rated refrigerators and freezers.
3,000W generators – For all standard refrigerators and freezers, the 3,000W generator is the most common generator used to power a refrigerator.
5,000W+ generators – It's used to power all very big refrigerators and freezers. Not many people have such a big refrigerator.
Top 5 Best Generator to Run a Refrigerator – Quick Comparison
Champion 4250-Watt Open Frame Inverter Generator

Can Run Refrigerators: ≤1100W

Can Also Run: Phones, Laptop, TV, Coffee Maker, Air Conditioner, Blender, Coffee Maker

BLUETTI Portable Power Station with B230 External Battery

Can Run Refrigerators: ≤1000W

Can Also Run: Phones, Laptop, TV, Coffee Maker, Hair Dryer, Air Conditioner, CPAP

WEN 56380i Super Quiet 3800-Watt Portable Inverter Generator

Can Run Refrigerators: ≤800W

Can Also Run: Phones, Laptop, TV, Routers, Fan, Dones, Microwave ovens

GOALZERO Yeti 3000X Indoor Generator

Can Run Refrigerators: ≤750W

Can Also Run: Phones, Laptop, TV, Air Conditioner, CPAP, Blenders, Power Tools

Honda EU3000IS 3000W 120V Portable Gas Generator

Can Run Refrigerators: ≤750W

Can Also Run: Furnace, microwave, TV, blenders, most 13,500 BTU RV AC units
Sizing the Generator for your Refrigerator and freezer
For starters, figure out how much electricity your fridge or freezer needs. When it comes to power consumption, older appliances can often use up to twice as much as a newer, more energy-efficient model of the same size. It's either a waste of money or a waste of time if you buy a generator that is too big or too little for your needs.
The first step is to determine what kind of generator you'll need. Refrigerators often include a sticker on the inside of the door that lists the appliance's power consumption. The sticker on a refrigerator looks like this: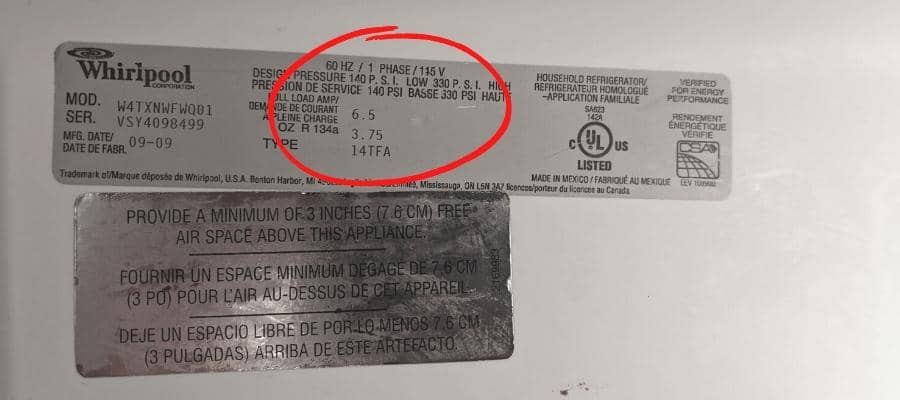 What you need to know is how many amps (amperes) your fridge needs. This one has a 6.5-amp rating. If you're using a 115-volt outlet, you'll need to multiply the 6.5 amps by 115 volts to get the average operating watts, which in this case is 747 watts.
When the compressor is functioning, refrigerators and freezers demand an additional surge of electricity that is sometimes 2-3 times greater than the average running watts. This means that a generator with a capacity of 1,494 watts is required to power this equipment.
Here is a estimations of the power consumption of various types of refrigerators
| Refrigerators and Freezers | Running Watts | Starting Watts |
| --- | --- | --- |
| Refrigerator Showcase | 210 W | 525 W |
| Standard Mini Fridge | 75 watts | 300 watts |
| Side-by-Side Fridge | 792 W | 1980 W |
| Big Side-By-Side Fridge | 1,000 W | 5000 W |
| Mini Fridge | 85 – 100 W | 212-250 W |
| Smart Fridge | 250 – 500 W | 625-1250 W |
| Deep Freezer (Chest) | 350 – 500 W | 875-1250 W |
| Mini Freezer | 35 – 50 W | 87-125 W |
| Counter-Top Fridge | 160 W | 240 W |
| Under-Counter Refrigerator | 90 – 140 W | 210-350 W |
| Biggest Fridge | 1,500 W | 6,000 watts |
| Standard Energy Star Fridge | 192 W | 960 W |
| Big Mini Fridge | 100 watts | 400 watts |
| Small Mini Fridge | 50 W | 200 watts |
| Mini Glass Refrigerator | 140 W | 350 W |
| Old Fridge (1990-2000) | 200 – 800 W | 500-2000 W |
| Modern Fridge (2001-2020) | 100 – 400 W | 250-1000 W |
Generator to Run Refrigerator – Detailed Review
1. Champion Power Equipment 3500W Open Frame Inverter Generator
Champion power equipment 4,250W/3,500W RV ready open frame inverter generator with silent technology provides reliable, easy-to-use power whenever and wherever it is needed. This generator provides 4,250 starting watts and 3,500 running watts of portable power for the camping or home.
This inverter generator for fridge provides clean electricity with a THD under 3% through its multiple outlets, making it safe for powering sensitive appliances in the RV or at home.
Excellent for use in the outdoors and when camping. Can run refrigerator & freezer up to 800Watts. Chips are found in almost everything, from refrigerators to televisions, thus inverter generators is the best option.
Overall, it's an excellent generator size for refrigerator and a few other important household appliances. This is one of the best generator for sump pump and refrigerator.
2. BLUETTI Portable Power Station AC200P with B230 External Battery Module 4096Wh
When there is a power outage, a battery-powered generator for refrigerator is an excellent option. The battery generator can run your refrigerator for 4 to 15 hours on a single charge. In the time of a power outage, it is an ideal gadget.
While many generators are powered by gas and other sources, which are less safe than battery-powered generators, they can only be used outside. The only and safe power source equipment that may be utilized both indoors and outside is a battery-powered generator.
This powerful AC200MAX B230 External Battery Module can run practically all of your high-load gadgets smoothly.
The ideal indoor generator for refrigerator is the battery generator for refrigerator, which removes the possibility of carbon monoxide buildup. It's also the most silent generator available. It's even better if it's a solar-powered portable generator that can be replenished with energy.
A larger refrigerators needs a higher-power battery-powered generator, but a small refrigerators may get away with a lower-power battery-powered generator.
For example, a generator with a capacity of 3000 watts will power a refrigerator that requires roughly 800 watts. So, before utilizing any portable power station for a refrigerator, the refrigerator's specs must be considered.
3. WEN 56380i Super Quiet 3800-Watt Portable Inverter Generator
The WEN 56380i is a low-cost, high-reliability 3000-watt generator to power fridge and freezer. The fuel tank has adequate capacity for a 2.2-gallon measure, which gives a large amount of run-time hours.
On a full tank, the half load gives 8.5 hours of run time, which is enough time to charge numerous gadgets in an emergency. It won't be a problem running refrigerator on generator for the entire night before refueling the generator.
The design of this gas generator for refrigerator is lightweight and portable, making it easy to transport in and out. Overall, the WEN 56380i is a dependable and affordable generator that is ideal for most homes and RV enthusiasts.
4. GOALZERO Yeti 3000X Portable Power Station
Another good battery powered generator for refrigerator. Given its high-power output and large capacity, the Goal Zero Yeti 3000 is a very competent lithium-ion power station. As a result, it's a solar generator for refrigerator for both home backup power and RV and camping trips.
The refrigerator generator produces enough power to keep your refrigerators and freezer running smoothly. Using the Yeti 3000 indoor generator for fridge to power a fridge, fan, and light during a power outage is simple. As you go closer to 13 amps, it gets us closer to powering corded equipment, but it still falls short.
Unless you switch to gas generators, you're unlikely to find a better overall portable solar generator for refrigerator than what Goal Zero battery generator for refrigerator offers with the Yeti 3000, whether you're looking for job site, recreational, or emergency power applications.
5. Honda EU3000IS 3000W 120V Portable Home Gas Power Generator
Honda EU3000iS is, without doubt, one of the best 3000-watt inverter generators for refrigerator & freezer on the market.
It comes with a powerful 4-stroke Honda engine that produces 2800 running watts of power. It's a very quiet and well-constructed generator. It is well worth its price because of all of its design characteristics that set it apart from its competition.
The Honda is the way to go for individuals with the financial means. Honda's innovative Eco-Throttle system regulates fuel consumption automatically to meet current energy requirements. To run with, the engine is powerful enough to power all main appliances used on most household as well as RVs. You could, for example, use it to power a 15,000 BTU air conditioner in an RV.
This makes it ideal for running refrigerators, freezers, and a variety of other appliances at the same time. It's lot quieter than traditional generators, yet it'll power your TV and other electronic devices just fine. If you simply use it for one appliance, like as a refrigerator, it will last the whole night.
Which Generator Type Should You Use for Running a Fridge?
When selecting a generator to power a refrigerator, there are a number of factors to take into account. This is the first consideration. The most popular fuel options are gasoline, propane, NG, and battery. A battery-powered generator designed for indoor use.
Choosing the right power source depends on what other equipment you'll be using, how often you expect it to be used, and if you're seeking for a temporary or long-term solution. Consider the advantages and disadvantages of each.
1. Gasoline Generators
When it comes to portable generators, gasoline is a common choice. However, there are inverter generators that can control the engine's speed. These inverter generators, depending on the load, can help reduce noise.
2. Propane Generators
Portable and permanently mounted generators both use propane as a fuel source. Cleaner and quieter, they are generally preferred over gasoline. Additionally, inverter generators and dual fuel types that can run on either gasoline or propane are readily available.
3. Natural Gas Generators
If natural gas is accessible, it's a perfect option for long-term installations. They have the advantages of being both silent and spotless. Their biggest drawback is that a gas line must be run into the building or residence before they can work. Other appliances, such as lighting and air conditioning, are frequently powered by these as well as the refrigerator.
4. Diesel Generators
There are many remote locations where gas lines have not yet been built, and diesel is a terrific alternative. Larger loads like as a hospital can be supported by diesel motors because they are so powerful and huge. In addition, they are quite noisy, making them unsuitable for use in a residential setting, and they are likely too huge to merely hold a fridge.
5. Battery Powered Generators
Only battery generators can be put indoors, making them ideal for powering homes and businesses. Installing and recharging them is a breeze, and they may be powered by solar panels or a conventional wall outlet. Batteries must be replaced every four years, which adds to the price of the device.
Generator for Refrigerator – FAQs
Is It Safe to Run a Refrigerator on A Generator?
If a generator is unable to produce the appropriate quantity of power, it may cause damage to your refrigerator. If your refrigerator doesn't get enough power, it might damage the compressor, expansion valve, and other components.
When a household appliance is turned on, it consumes 3-4 times the amount of energy it consumes when it is turned off. If the running wattage is 800, the starting wattage will be 3,200.
Overloading a generator might damage your appliances to break down. Running appliances and electronics equipment that aren't in use might lead them to burn out.
How to Power Your Refrigerator with Generator?
Connect a fridge to a generator by checking the power requirements. A typical generator can deliver 20 amps, or maybe 30 amps, or even more. Most one-door fridge is rated 6.5 amp compressor and a voltage of 110 to 127 volts.
The full load power (amps * volts) required for operation of the fridge is 6.5 amps x 110 volts = 715 watts. The startup surge wattage is 7153= 2145 watts.­­­­­­­­­­­­­­­­­­­­­­­­­­­­­­­­­­­­­­­­­­­­­­­­­­ Make sure that all of your equipment, when added together, does not exceed the wattage rating of the generator.
Generator Installation Considerations
1. Installing Fuel Generators
An extension cord can be hooked into a window or door to power portable fuel-powered versions that are only needed for a short period of time. It's preferable to connect the generator directly to the electrical panel in a permanent installation or important application. This necessitates the use of a licensed electrician to install a transfer switch in your home. The refrigerator will subsequently be powered by the wall outlet into which the generator is connected.
2. Installing Battery Powered Generators
The refrigerator can be connected directly to a battery generator. The battery-powered generator can be mounted directly next to the appliance, avoiding the need for costly extension cords and electrical installation. It is possible to use a battery generator that is hardwired into numerous outlets to power two or three refrigerators at the same time.
How to Connect Your Generator to Fridge?
Move the portable generator to a flat spot in the yard or in the balcony if you are living in an apartment.
If you are using battery operated indoor generator then it's fine if you place it the kitchen beside the fridge.
Plug the pronged end of the 16 or 14 gauge extension cord into the generator's power outlet.
To reach the fridge, run the extension cord from the generator into the structure through a doorway or hole.
Start the generator and let it run for a few seconds to get to the operating speed.
Remove the fridge from the power cord and plug it into power outlet of the extension cord.
Make sure that the fridge works properly and is running correctly.
What About Freezers?
When it comes to freezers, intermittent power is important because they are more efficient at retaining heat and you are not likely to be accessing it as much. It can take up to 48 hours or more for the internal temperature to rise above freezing if you have a full freezer.
Here is a YouTube video on how you can connect you generator to fridge
What's the Difference Between Running Watts and Surge Watts?
The term "starting" or "surge" is one of the two terms you often encounter. All devices require a certain number of watts to run continuously and some require an additional number of watts to start or to cycle on. It's not expected that a generator will run continuously above its rated running watt. It should be expected to run continuously at or below the level.
Do You Need Inverter Generator to Power Your Refrigerator?
Clean sine current is required for sensitive electronics such as laptop computers and home audio systems to work correctly. As a consequence, the only safe option to power them is using inverter generators.
Refrigerators, on the other contrary, are a different kind of appliance. A refrigerator or freezer isn't regarded as a sensitive appliance. They may be safely operated with either an open frame generator or an indoor battery powered generator.
But if it has sensitive electronics as with the case with most modern refrigerator, you are better off with inverter generators.
What Are the Wattage Requirements of An Average Refrigerators?
The manufacturer's nameplate, which is commonly placed below the door or on the back of the refrigerator, contains electric demand data for most refrigerators.
A refrigerator uses about 800-1200 watts of power on average; however, this might vary depending on the size of the refrigerator.
When in use, an average 21-cubic-foot refrigerator-freezer consumes roughly 780 watts. You can calculate how much it costs to run your refrigerator once you know how much wattage it requires. Also you can measure yourself like this
Will a 5,000-Watt Generator Run a Refrigerator?
There should be plenty of electricity left over to run a refrigerator on a 5,000-watt generator. Most refrigerators in the home require a starting wattage of 2,000 volts.
What Size Generator Do I Need to Run a Refrigerator and Tv?
The answer to this question is dependent on the size and type of refrigerator and television you have. A 2000-watt generator can power a normal refrigerator and TV. A larger generator may be required if you anticipate the need to power more electrical equipment in addition to these two. A 32" LED uses around 40 watts (starting 120W), so with a standard size fridge (950 W) you will need 1000 W generator.
What Size Generator Do I Need to Run a Refrigerator and Air Conditioner?
A central air conditioner uses around 2000 – 4000 w of power and has 3 times the running watt that's around 7500 watts starting power. Combine that with a standard energy star refrigerator of 950 W (starting), You will need at least 8500-watt generator.
What Size Generator Do I Need to Run a Refrigerator and A Window Unit?
Same for window unit. A window air conditioning uses around 600 – 1500 W of power and has 3 times the running watt that's around 3000 watts starting power. Combine that with a standard energy star refrigerator of 950 W (starting), You will need at least 4000-watt generator.
How to Optimize Your Refrigerator's Power Usage During Emergencies?
You can decrease the amount of energy your refrigerator uses by performing regular maintenance and making a few easy changes to your habits. Here are a few tips on how to reduce the amount of energy your refrigerator uses.
Keep the refrigerator door shut as long as possible.
Replace your old fridge with one that is Energy Star-certified.
Keep your fridge coils clean.
You can save energy by keeping your refrigerator in a cool, dark location.
How Long to Run a Generator to Keep Refrigerator Cold?
For four hours of refrigeration, run a generator for one hour. This is a broad rule since many factors influence how rapidly a fridge's temperature changes and how much power it takes to cool it down.
Will a Tailgator Generator Run a Refrigerator?
Yes, If it has enough surge power 3-4 time as the running watts of the refrigerator.
Does a Window Unit Air Conditioning Use More Wattage than A Refrigerator?
The functions of a window air conditioner and a refrigerator are similar. Both remove heat from a room and spread it into a large open area. A window unit is a device that extracts heat from a room and distributes it outside. The heat from a freezer box is absorbed by the refrigerator and dispersed around the room. A closed-loop refrigeration system with two coils, a compressor, and a blower fan is used in both. In both, the compressor is the key component that uses electricity.
The compressor pressurizes the refrigerant in a closed-loop system, causing it to condense and release heat in the condenser coil. The capacity of a refrigerator is measured in ounces. A window air conditioner, on the other hand, can have a refrigerant capacity of up to 3 pounds, necessitating a larger compressor that consumes more electricity than a refrigerator.
Generator to Run a Fridge – Other Things to Consider
To obtain a better sense of what size and type of generator to acquire for your fridge, start by answering the following questions:
What is the required amperage for your refrigerator? Usually, each generator includes a variety of outlets that provide 15 or 20 amps.
Is there a freezer built in? If your refrigerator also has a freezer, it will need more energy to run than a refrigerator that simply has a refrigerator.
What is the overall capacity of your refrigerator? If your fridge is smaller, it will use less power to run correctly. On the other hand, if you have a large fridge stocked with goods and food, your power consumption would be higher.
Is there an ice machine and dispenser included? Any additional functions and capabilities that your fridge provides usually come at a higher price in terms of power consumption.
Is your refrigerator equipped with a smart control panel as well as a variety of sensors? If you answered yes, you'll need to invest in inverter generators, as standard portable generators have a significant total harmonic distortion, which might damage your refrigerator.
Do you have an older or modern refrigerator? Older refrigerators use more energy than newer models. Also, when an electric appliance ages, its power consumption may increase.
Will you have other appliances running at the same time? Initially, many purchase generators just to power their refrigerators in order to avoid food spoiling.
It's clear that a lot of things come into play when you choose the best generator for fridge.
Read Next: