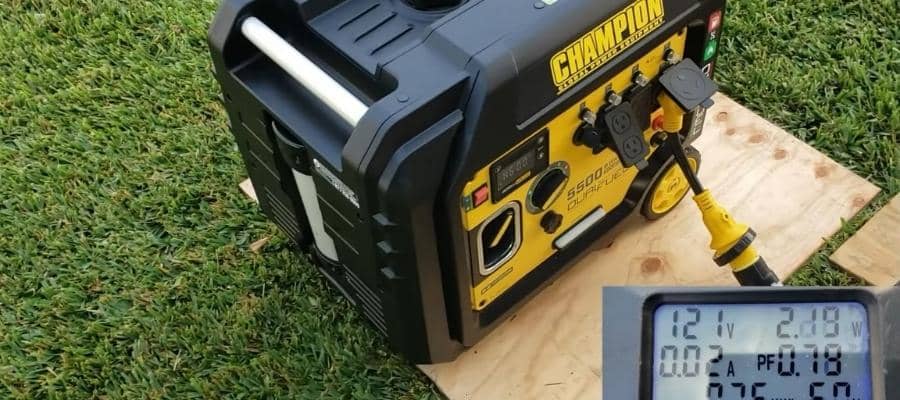 Want to know how to make a generator less noisy? In this article, you'll discover several helpful hints that can be used individually to reduce the volume of a noisy generator by a noticeable amount.
Whether you need it to charge your phone or run a refrigerator, a generator is an invaluable piece of equipment to have when camping.
The obvious drawback to utilizing a generator to power these conveniences on your camping vacation is the noise it creates.
If the question "how to quiet a generator" has ever crossed your mind, you have arrived to the right place. In order to help you enjoy a more tranquil camping trip without sacrificing conveniences, we've compiled the best ways to reduce the noise of a generator.
Why Are Generators Loud?
In their most fundamental form, generators are just engines, which means they make a lot of noise. It's inevitable that a generator, like any other motorized device, will make some noise as a consequence of its energy production. An audible noise is generated by the generator's internal combustion engine and other moving parts.
To transform mechanical energy into electrical energy, generators typically employ gasoline engines. Most modern ones either give power directly or charge a battery using electromagnetic induction. The engine and the exhaust system are the primary noise contributors on a generator.
How to Make Your Generator Quiet as A Cricket?
1. Get a Generator that Fits Your Needs
Your generator's decibel level will directly correlate to the amount of electricity it can produce. Consider your power needs, your tolerance for noise, and your budget before purchasing a generator.
A small amount of power is all that some need to charge their electronics and enjoy themselves. These little jobs don't require much more than a few hundred watts, which is the range of commonly available generators.
You'll need a generator with a higher wattage output to run major appliances like the fridge, microwave, and air conditioner in your camper. The larger components require a generator with an output of 3,000 to 6,000 watts.
Some generators are specifically built to provide more power while remaining quieter than other types. Having the advantages of two types of generators results in a higher price tag though.
2. Move Your Generator Further
Next, think about the distance between you and the location of the generator. This is a critical step in reducing the noise level of your generator at the campsite or home.
The decibel level of most modern generators is prominently displayed on the packaging. In most circumstances, 7 meters is the distance at which these decibel ratings are taken from the actual working generator. In order to maintain a comfortable decibel level at your campsite, you should keep your generator at least 20 feet away.
If you have enough space, you can put your generator as far away as you want if you buy some heavy-duty, extra-long extension cords.
You may greatly reduce the noise from your generator by keeping it 20 feet or further away from you.
3. Move the Exhaust Pipes Away from You
When using a generator while camping or home, the location of the unit is the first consideration. More specifically, the generator's exhaust. This is the side of the generator that should always face away from your camp site or home. It is feasible, with some types of generators, to direct the exhaust pipes upward.
4. Place the Generator on Soft Even Surface or Use Rubber Feet
After determining an appropriate separation between your home or RV and the generator, you should set it up on a surface that will absorb rather than enhance the noise.
Stay away from any and all hard floors. You shouldn't put the generator anywhere that'll magnify the noise, like on concrete or asphalt.
Dirt or grass are typically the best and only options for placing a generator while camping. Both of them are excellent options as a base for your generator. Both of these can be used to reduce the volume of the rumbling generator.
Let's say you're at a spot where you can't find any cushioned dirt to set up your generator. The use of mats designed to dampen vibrations is a brilliant idea. Rubber feet can also be placed under the generator's feet. It will eliminate the shaking felt when using generators.
5. Use Sound Deflectors
Sound deflectors are the next best thing after putting your generator on a soft surface far away from you to reduce noise.
Although it may sound complicated, carrying it out is actually rather easy. In the quest to learn how to make a generator as silent as possible, this knowledge might be invaluable.
Only 4 pieces of plywood and 1 sheet of nonflammable material are required. The fire resistance of drywall makes it a suitable material for this purpose. The dimensions for each section are roughly 4′ broad by 3′ high.
All of these components can be propped up against the generator at different heights and angles. Use the sheet of drywall designated for the generator's exhaust side. Your deflectors must remain fireproof!
Sound can be muffled while air circulates freely by angling these pieces of wood around the generator. The noise level produced by your generator can be instantly reduced without any performance concerns.
If you want to know exactly where to put these deflectors in order to silence a generator, this video will show you every step of the way.
6. Build a DIY Enclosure or Baffle Box
Making a baffle box or acoustic enclosure is another option that's similar to making deflectors. The same principle that makes deflectors effective also applies to this fix. A significant reduction in the noise level produced by the generator will result from the enclosure's ability to contain the sound waves.
An acoustic enclosure, also known as a baffle box, is preferable to transporting five sheets of plywood because of its reduced bulk. Another perk is that you can either buy a premade baffle box or construct your own.
Check out the video guides in YouTube
If you insist on utilizing a homemade baffle box, remember to cut ventilation holes in it. The generator will be damaged by the heat generated if adequate airflow is not provided within the baffle box enclosure. In order to vent the exhaust from the generator, holes must be cut in the side of the box.
7. Buy Aftermarket Quiet Box or Cover
IGAN Generator Tent Cover
The IGAN generator tent cover is first on the list. This is a great option that many people use not only to help control noise, but also to protect the generator when it is in bad weather. Most of the time, people use generators in all types of weather, and they can begin to wear down if no storage is available. Overall, it's a lightweight cover that sets up quickly, allowing the generator to function normally while remaining out of the way.
Some of the advantages are that it protects the generator from the elements and covers the loudest part of the generator.
What about the disadvantages? While it is not designed specifically for soundproofing and will begin to show wear if left outside for an extended period of time, the fact that it is a fraction of the price of the next option makes it a pretty good option for a lot of people.
Zombie Box
The following item is called Zombie Box. Many people are smitten by what is billed as the world's first patented portable noise control system for a generator. It is useful not only for generators, but also for compressors, pumps, vacuums, and other loud pieces of equipment.
It is difficult to provide a dependable enclosure that is not too close to the actual generator, but they found a way to allow it to breathe enough that it will not be compromised in any way.
The cost of the zombie box is entirely dependent on the dimensions required. They are a little pricey, but many people are blown away by the overall quality that it provides. Some of these enclosures cost less than $1000, but the heavier duty and larger ones can be quite pricey. The good news is that a zombie box should outlast a standard generator. As a result, it will be useful for many years to come.
The fact that it was designed specifically for soundproofing is one of its advantages. It's heavy duty, and the majority of generators will fit inside. The disadvantages are that it is quite expensive, and some people may not require such a large box.
MicroFab Generator Enclosure
A micro fab generator enclosure is the third option. From the outside, it appears to blend in with everything else. This is great news for anyone looking for simplicity and some extra noise control.
GenTent Generator Running Cover
The GenTent generator running cover is up next. This is a simple cover for any portable generator that may become stranded in inclement weather. It is completely waterproof and keeps water out of any sensitive areas.
The gen tent is much less expensive than a more permanent structure. There are certainly advantages and disadvantages, but many people who don't want to spend too much money at first will choose something like this.
The benefits It's light, cheap, and will fit most people. The disadvantages are that it lacks high-end soundproofing and will not last long if left outside all day.
7. Replace Your Generator's Muffler
Installing a larger replacement muffler is a common method used to reduce a generator's noise output. But just don't have unrealistic expectations as far as what its gonna do.
The purpose of the muffler is to reduce the noise emanating from the generator's engine through the exhaust pipes.
To dampen the noise coming from the engine, a muffler uses perforated tubes within to redirect the exhaust (s).
Some of the noisiest components of a generator are the exhaust pipes. The noise output of the generator can be reduced by about 10–12 dB by upgrading the muffler.
Unlike a car or truck, a generator's muffler may not be readily available, so keep that in mind if you need to replace it. For starters, there's a wide variety of generators available, each with its own unique exhaust pipe size.
It is unlikely that you will be able to buy a muffler designed specifically for your generator.
To get the finest advice, consult a small engine mechanic. As such, you should consult with them to learn more about the replacement options for the muffler on your generator.
If you want to add a muffler to an aftermarket generator, you'll probably need a custom solution.
8. Use Water as Your Generator Muffler
If getting a new muffler seems like too much of a hassle, you could always just use water. You'll need to perform some additional tweaking to make this work for you.
To do this, you need just gather a 5-gallon pail of water, a hose, and a clamp to attach the hose to the exhaust pipe. Put the generator somewhere that it won't get wet if the bucket falls over.
The water shouldn't be able to flow backward into the generator's exhaust. If you want to be absolutely certain that no water will ever run backwards, you can poke a few tiny holes in the hose.
Simple components form the basis of this plan. Use the clamp to attach the hose to the exhaust pipe. You can then dip the hose's other end into the water supply. The generator's exhaust noise will be muffled by the water. The generator's noise level should drop by about 7 to 10 dB after being muffled with water.
Final Words
The process of making your generator quieter can be as straightforward or involved as you choose. The following are some last considerations to help make your approach selection as effective as feasible.
Blocking holes is the key to soundproofing, but don't take that too literally. You don't want the generator to catch fire because of lack of air circulation because of your concern about its noise level.
Since there is no way to completely eliminate the noise your generator makes, you should employ clever methods instead. If you're going to make noise while camping, like with a generator, don't put it too far away from your site.
Verify that a malfunction is not the origin of the noise coming from your generator. Don't try to make it quieter without having it serviced first; you might only be masking a worse issue.
Read Next: