The best quiet generators will have decibel levels of less than 60 dBA, making them suitable for use in a wide range of environments, including RVs, homes, and food truck, tailgating. Electric generators may be quite noisy; larger generators with more than 10,000W can create more than 75 dB of sound output even when operating at 25% load (measured at 23 ft distance) as you can see in the graph below.
To that end, we're going to investigate the silent generators available right now and take a look at the best quiet portable generator models in every category.
Who needs a generator with such a low noise, anyway? Okay, so noisy generators aren't liked by anyone. You and your neighbors won't have to worry about being woken up by the noise of a home generator. Instead of a loud machine, a quiet generator is ideal for use in a camping or recreational vehicle setting or a business like food truck.
Noisy generators are defined as those that exceed 80 decibels (dB) in noise output. "Quiet generators" are those that generate less than 60 decibels of noise.
Are there any regulations on generator noise levels? To prevent noise-induced hearing loss, both the Environmental Protection Agency and the WHO advise keeping environmental noise levels below 70 dBA over a 24-hour period (75 dBA over 8 hours). The EPA set the decibel (dB) standards for voice interference and annoyance at 55 dBA for outdoor activities and 45 dBA for indoor activities.
On top of that, you have to be aware of decibel restrictions for noise output. Noise regulations are common in American cities. These kinds of regulations are also common in homeowner's associations. These levels can be broad in scope, such as those that prohibit "unreasonable noise," or more specific, such as those that limit the volume of noise to a certain decibel.
For instance, between the hours of 10:00 p.m. and 7:00 a.m., the Indianapolis Noise Ordinance prohibits "unreasonable noise" from engines and motors. During the same time periods, it also limits the sound level of engine and motor noise that may be heard beyond the property line.
South Bend, Indiana's noise regulations are similarly vaguely worded and open to interpretation. The definition of "unreasonable" noise in South Bend depends on factors such as the proximity from "sleeping facilities," the type of land use, the time of day, and the duration of the sound. We also see similar ordinances with Montgomery County, Maryland.
More stringent regulations on noise levels are common in suburban associations with HOAs. Sound decibel levels in these areas range from 52 to 57. Sound levels in urban residential zones can be up to 62 dB.
How Can We Figure out Which Generators Are the Quietest?
In principle, that shouldn't be too hard to accomplish. Check the noise levels (in dB) and open the technical specifications of the top 500 selling generators. Determine which generators emit the least amount of noise with little output.
That's why we spent time researching and compiling a list of the top quietest generators on the market today (in the 60 dB range). In the next section, you'll discover a comparison of features and reviews for the best quiet generators on the product today.
A small 2,500W generator will always be quieter than a big 10,000W generator.
How the Noise of The Generator Is Measured?
The noise levels of generators are tested from a distance of 23 feet. Yes, you are correct in saying that. The maximum noise level produced by a generator rated at 74 dB is reached only at a distance of 23 feet (7 meters) from the generator. You should expect to experience noise levels of 80 or more decibels if you position yourself directly next to a 74 dB generator.
Humans have a limited tolerance for noise above 85 decibels, which is why the concept of a quiet generator operating at 60 decibels or less is so enticing. Portable generators usually have dBA rage between 40-90 db.
Best Quiet Generator for The Money
Considering availability, return policy, ease of use, and reliability here are best ultra quiet generators for home, RV, camping and business.
Best Quiet Inverter Generator for Home, RV and Travel Trailers
Here is a comparison graph of generator decibels (dBA)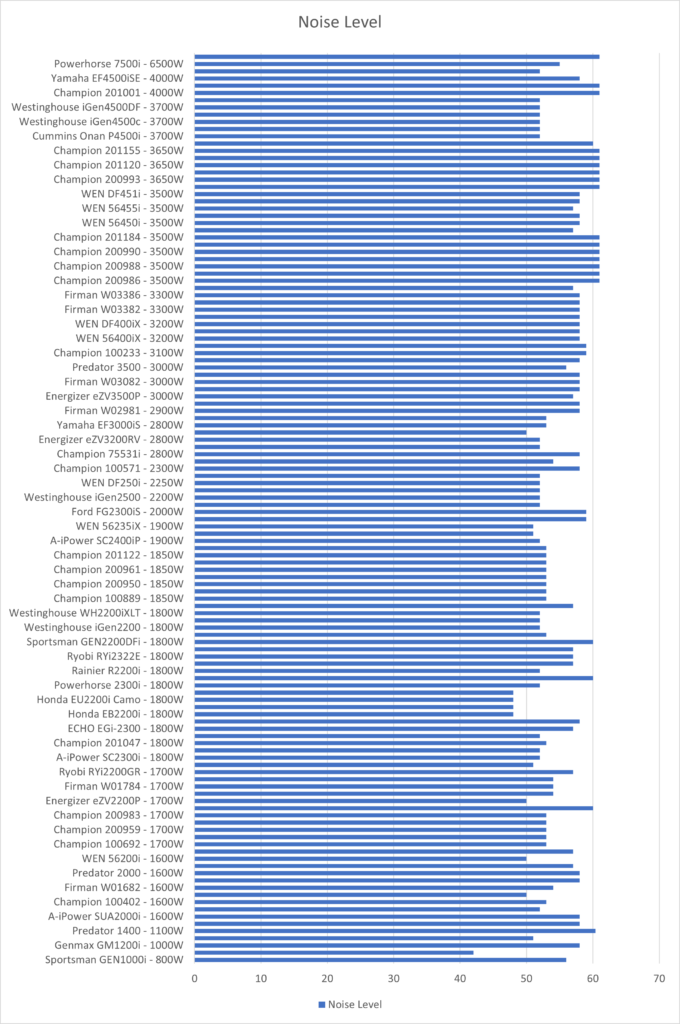 Best Quiet Generator for RV
Here is a comparison graph of generator decibels (dBA)
Best Quiet Dual Fuel Generator
Here is a comparison graph of generator decibels (dBA)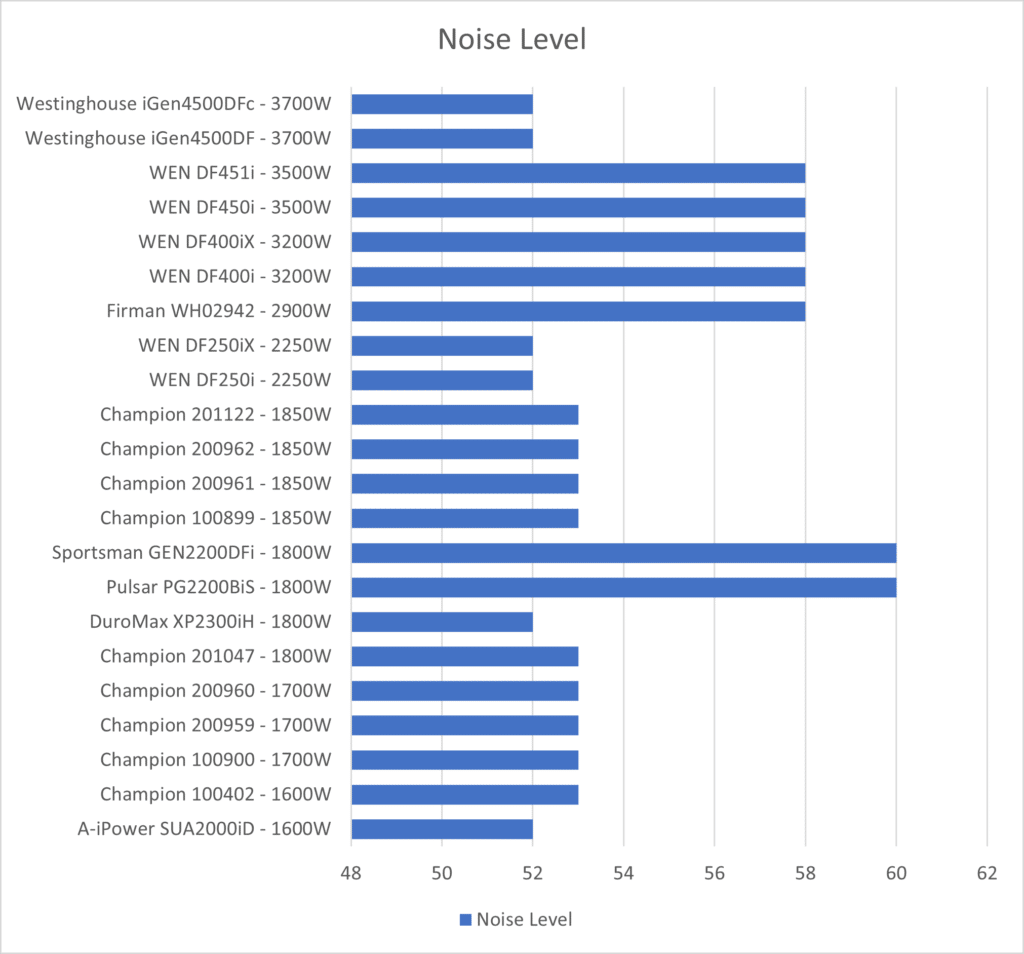 Best Quiet Generator for Home – FAQs
Are there any soundproofing methods for portable generators?
Although there are various options for dampening the noise emanating from portable generators, they can still be quite annoying if used improperly. There are lot of options for reducing noise of a generator. One option is to enclose the generator with acoustic foam and insulated panels to reduce noise output. Covering or insulating the generator with an acoustic blanket is another option. Putting the generator on a vibration-absorbing pad is another effective method for cutting down on noise.
How to properly maintain a quiet portable generator to keep noise levels low?
A quiet portable generator can only maintain its low noise levels with regular maintenance. Keeping the generator clean, changing the oil, and changing the air filter at regular intervals are all part of this maintenance. Also, if there are any nuts or pieces that are loose, tightening them can reduce noise.
What is the cost-benefit for buying a quiet portable generator?
The purchase price of a portable, quiet generator may seem high at first, but the long-term benefits may outweigh the initial investment. Although quiet generators may be more expensive initially, they can end up saving money in the long term by preventing noise complaints and cutting down on soundproofing expenses.
How to choose the right size and power output for a quiet portable generator?
A generator at full capacity will make more noise than at 25% load but you lose fuel efficiency. Finding the sweet spot between size and power output for a whisper-quiet portable generator can be a challenge. Think about how much power your electronics and appliances will need from the generator. Keep in mind the generator's location as well as any applicable noise regulations.
Read Next: