A 13000 watt generator gives you enough power to run your run the whole house with 3-ton AC, refrigerator, stove, water heater, well pump, lights, TVs during a power outage or in emergencies and still will have plenty of power left., a wide range of tools on the job site, and even help run a food-truck or RV.
Don't have time, just what is the best 13000-watt generator?
According to our review DuroMax XP13000E Dual Fuel 13000 Watt Portable Generator with electric start is the best 13000 watt generator money can buy.
When we say "13000 watt generator," we're talking about a generator with the capacity to generate 13,000 watts of surge power. Running watts will be different depending on the make and type, but we've found that the typical range is between 9,500 and 10,000 watts.
Most of these 13000 watt generators (@120V 108.33 amps , @240V 54.17 amps) are very quiet and portable with sturdy wheels and user-friendly grips, making them suitable for transport by people of any age. Some of them have dual fuel and remote start options.
In this article, we'll take a look at the best and quietest 13000 watt generators for the money on the market and compare them to one another so you can get a better feel for what to expect from each. The Westinghouse 12500 Watt Dual Fuel is less the 13000 watts, but we wanted to include that as you are getting way more in terms of runtime in less price than the other two generator 13000 watt.
We cannot find a Honda 13000 watt generator. At this time Honda EB10000 10,000Watt Industrial Generator is the biggest Honda portable generator available.
We were also unable to find good 13000 watt inverter generators. If you want bigger inverter generators for whole house, you can check our post about best large inverter generators or you only care about low THD check our post about low THD generators.
Top 3 Best 13000 Watt Portable Generator for RV and Whole House
DuroMax XP13000E Dual Fuel Portable Generator 13000 Watt

Runtime: 8.5 hrs. @ 50 % load

DuroStar DS13000EH Dual Fuel Portable Generator 13000 Watt

Runtime: 8.5 hrs. @ 50 % load

Westinghouse 12500 Watt Dual Fuel Home Backup Generator

Runtime: 12 hrs. @ 50 % load
Best 13000 Watt Portable Generator – Detailed Review
1. DuroMax XP13000E Dual Fuel Portable Generator 13000 Watt with Electric Start – Home Back Up & RV Ready
Best 13000 Watt Portable Generator
The DuroMax XP13000E 13000 watt dual fuel generator is an incredibly powerful workhorse due to its 500cc, 20HP, OHV engine. Gasoline engine has EPA and CARB approval. This power plant provides a respectable 13,000 watts of peak output and 10,500 watts of continuous power.
There is no need to worry about the DuroMax tripping because you have too many appliances plugged in at once, like a refrigerator and an air conditioner. Similarly, on a jobsite, you can supply power to a big air compressor and still use a good number of power tools at the same time.
This 13000 watt quiet generator is built like a tank, with a thick steel rim on the all-terrain wheel set and a solid steel frame. Duromax also offers a trifuel version of this generator DuroMax XP13000HXT 13,000-Watt 500cc Tri Fuel which can run on gas, propane and natural gas.
Having a noise level of only 74 dBA This generator has both a conventional pull-start mechanism and an electric starter that are both easy to use.
The XP13000EH 13000 watts generator can run for about 8.5 hours at 50% load on a full tank of gasoline, thanks to its 8.3-gallon fuel capacity (fuel consumption: 0.98 GPH). Running on propane, it has a 3.5-hour maximum time (on a 20 lbs tank). Sensitive electronic devices should not be powered by the XP13000EH due to its high THD (12%).
2. DuroStar DS13000EH Dual Fuel Portable Generator – 13000 Watt Gas or Propane Powered
Best 13000 Watt Dual Fuel Generator
The Duro Star 13000 EH 13000 dual fuel generator is capable of easily powering a variety of appliances, including an air conditioner, LED lighting, television, refrigerator, deep freezer, and a few more odds and ends. The device has a running wattage of 10,500W and a starting wattage of 13,000W if it is powered by gasoline. It provides 9,975 rated watts and 12,350 starting watts if run on propane.
This quiet, 74 dBA generator features both a traditional pull-start mechanism and an easy, stylish electronic starter.
The DS13000EH 13000 watt portable generator can run on a full tank of gasoline for about 8.5 hours at 50% load due to its 8.3 gallon fuel capacity (fuel consumption: 0.98 GPH). It has a 3.2-hour operating time on propane (on a 20 lbs tank).
The DS13000EH's THD is on the high side (<12%), therefore it shouldn't be used to run particularly sensitive electronics.
3. Westinghouse 12500W Dual Fuel Home Backup Portable Generator w/ Remote Electric Start
More Fuel Efficient Than a 13000 Watt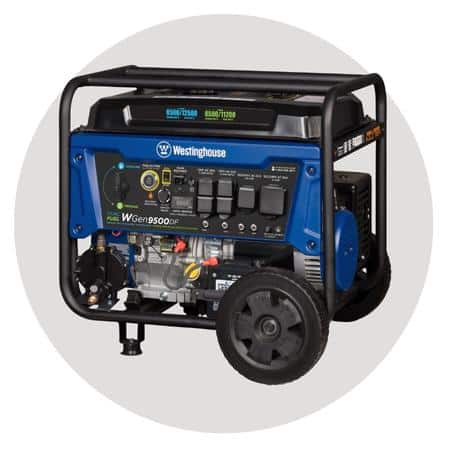 The Westinghouse WGen9500DF 12500 watt generator is a lot less expensive than the DuroMax XP13000E 13000 watt generator by a few hundred dollars.
It's easy to see that the WGen9500DF's gas tank is significantly smaller than the DuroMax XP13000E's (6.6G vs 8.3G). However, while having roughly 2 gallons less petrol in the tank, the Westinghouse provides significantly more runtime per tank of gas.
At half power, it can keep going for 12 hours on a single tank. The efficiency rate is 8.6 kilowatt hours per gallon. When compared to the DuroMax XP13000E, you can expect a savings in operating costs of about 30%.
The DuroMax XP13000E has fewer 20A AC outlets than the Westinghouse WGen9500DF. However, neither a 12VDC charging port nor a 120V 30A outlet are present.
When run on gasoline, it has an operating wattage of 9,500W and a peak wattage of 12,500W. If run on propane, it can produce 11,200 peak watts and 8,500 continuous watts.
The generator has both a conventional pull-start mechanism and an electric starter that is both straightforward and stylish. The maximum decibel level is 74 dBA. The WGen9500DF can be launched remotely with key fob for your convenience.
When powered by gasoline, the WGen9500DF can run for up to 17.5 hours on a full tank (fuel consumption: 0.55 GPH), while on propane, it can run for up to 11 hours (on a 20 lbs tank)
Powering sensitive electronics with the WGen9500DF is not advised because to its rather high THD (23%).
Top Rated 13000 Watt Generator – Buying Guide
Follow the following guides for choosing the best 13,000 watt portable generator for RV or home.
1. Portable – Most people can get by with just a portable generator unless they need to power many large appliances in a large home. They usually come on a housing frame with wheels, making them convenient for relocation or stowage. A stationary generator can't compare to the portability and cost-effectiveness of a portable generator.
2. Electric start – Look for a generator with an electric start if you'd rather not use the more archaic method of pulling a string to get it going. It will take much more time and energy to get a recoil starter going in a severe climate, but these will get going much more quickly.
3. Automatic low-oil shut off – The generator's motor is safeguarded by an automatic shutoff function activated when oil levels in the reservoir fall below a certain threshold. These days, this is a typical inclusion on most contemporary portable units. It's not inexpensive or easy to keep up a generator. Don't waste your money by ignoring regular maintenance and adequate operation.
4. Fuel Gauge – A fuel gauge is a must-have safety element to prevent being stranded without light because you misjudged your fuel needs. Instead of having to guess how much further you can go without refueling, a fuel gauge displays the current fuel level in the tank.
13000 Watt Generators – Conclusion
To sum up, 13000-watt generators are an excellent choice if you're thinking about installing a generator in your home as an emergency tool or any outdoor activity. The fact that they are lightweight and portable yet powerful makes them convenient to use in any situation.
Read Next: