Looking for longest run time generators? We got you covered. We reviewed many portable generators for our "most fuel efficient generators" post. Emergency generators should be fuel efficient, but it's also crucial that they have a large enough fuel tank or long run time that the gas tank won't need to be replenished as often. Fuel efficiency is more important on daily use generators.
After reviewing over 500+ electric portable generators (gasoline, dual fuel, Low THD, small/ large inverter generators) , we here discuss the generators with longest run time.
When looking for a new generator even a longest run time portable generator, there are several important things to look for, including:
Running and Starting watt
fuel type
noise levels
THD levels
Runtime is an important characteristic, and almost all manufacturers provide data in hours at specified power loads and fuel tank capacity.
Another thing when you buying long run time generator for home or business if you are searching for a home generator with the longest run time on minimum fuel consumption, it is not always the case that a fuel efficient generator will have better run time as you can see below.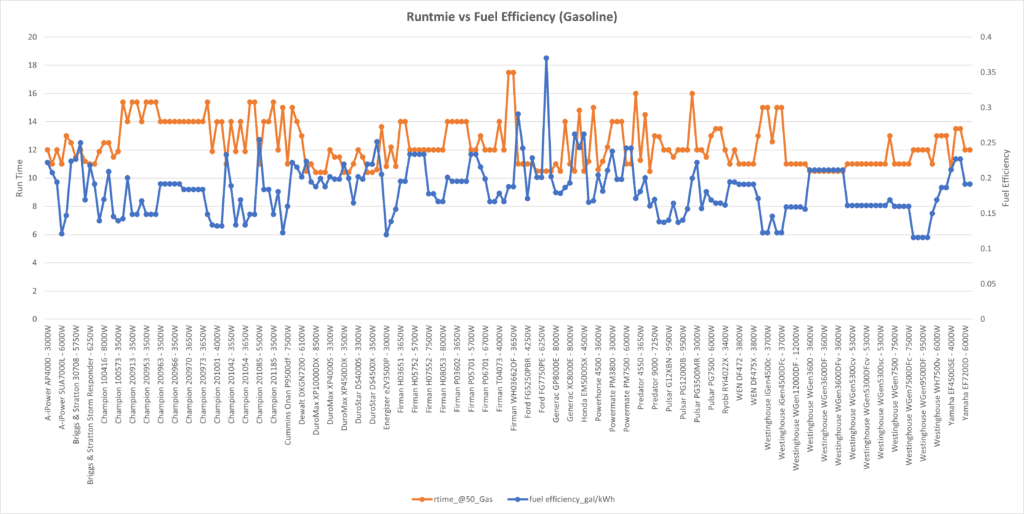 But it is true that If you have substantially oversized your generator and instead of running your generator at nearly full or full capacity, you're running it at say 50% capacity well now your fuel consumption would be lower but you will have low fuel efficiency. So be sure to buy the right size generator.
Every manufacturer is different on how they provide data, most of them provide runtime @50% load while others provide @25% load.
Related links:
Here is what we did to convert the data:
We compared all of the 500 generators at 50% load. We found that there is "skewed right" distribution for the difference between 50% load and 25% load and the median comes at 1.43. With this number we converter all the 25% load runtime to 50% load. Same with the propane efficiency, where median is 1.38.
For some generators where propane runtime was not given, we used NIST 1994 GGE (Gasoline Gallon Equivalent) formula: 5.66 lbs. of propane = 1 gal of gasoline. All propane runtime is for 20 lbs. propane tank (4.7 gallons).
Certain features, such as total harmonic distortion (THD) levels (if You have to power sensitive electronics), noise levels, fuel types, etc., may be more significant to you than longest run time.
Considering availability, return policy, ease of use, and reliability here are longest running generator for home, RV and business.**
Top Generators with The Longest Run Time
Here is are top picks for portable generator with longest run time
Here is a comparison graph of generator runtimes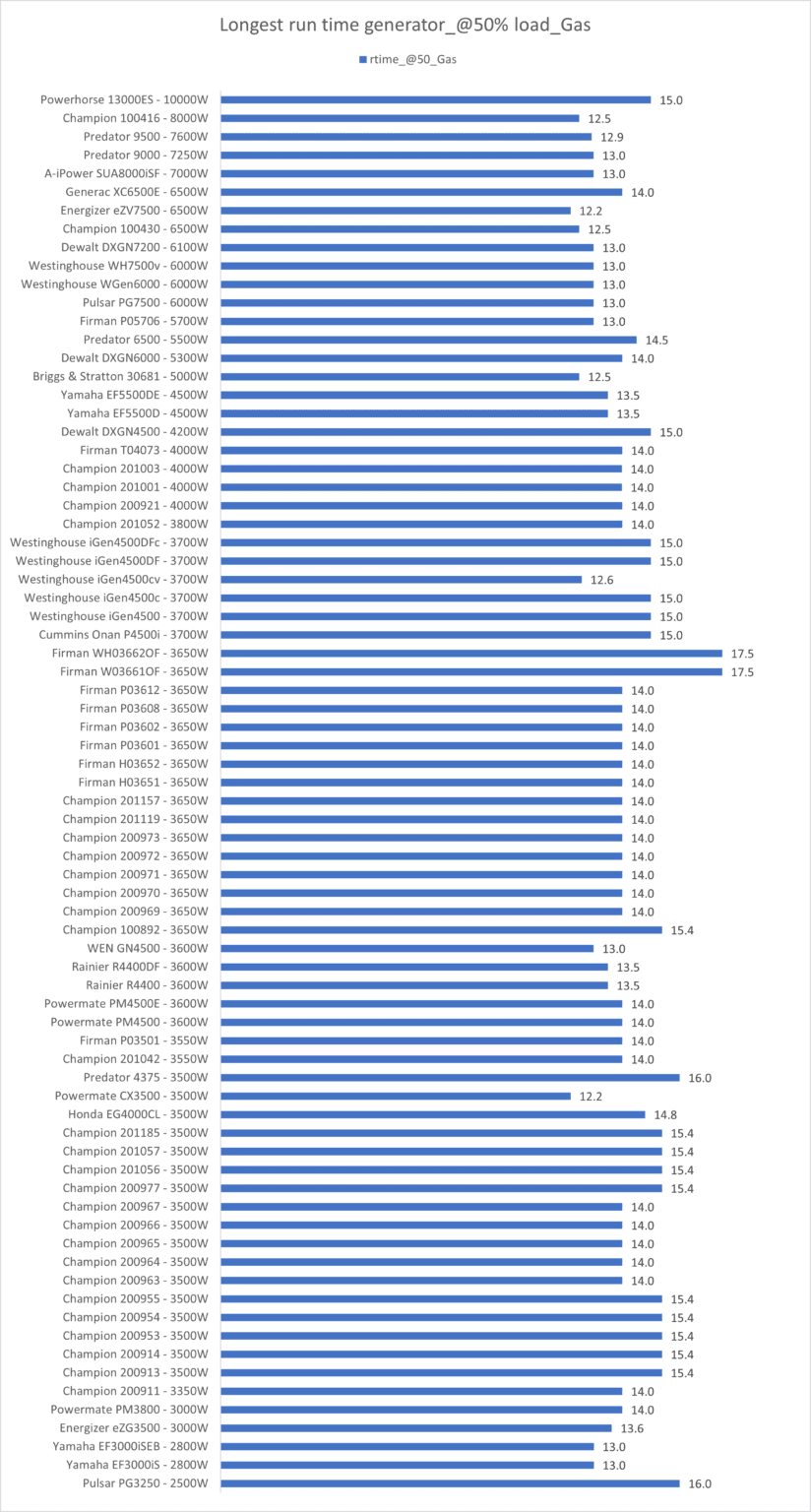 Longest Run Time Inverter Generators
Here is are top picks for long run time inverter generator
Here is a comparison graph of generator runtimes
Propane or Dual Fuel Generator Maximum Run Time
Here is are top picks for long run time dual fuel generator
Here is a comparison graph of generator runtimes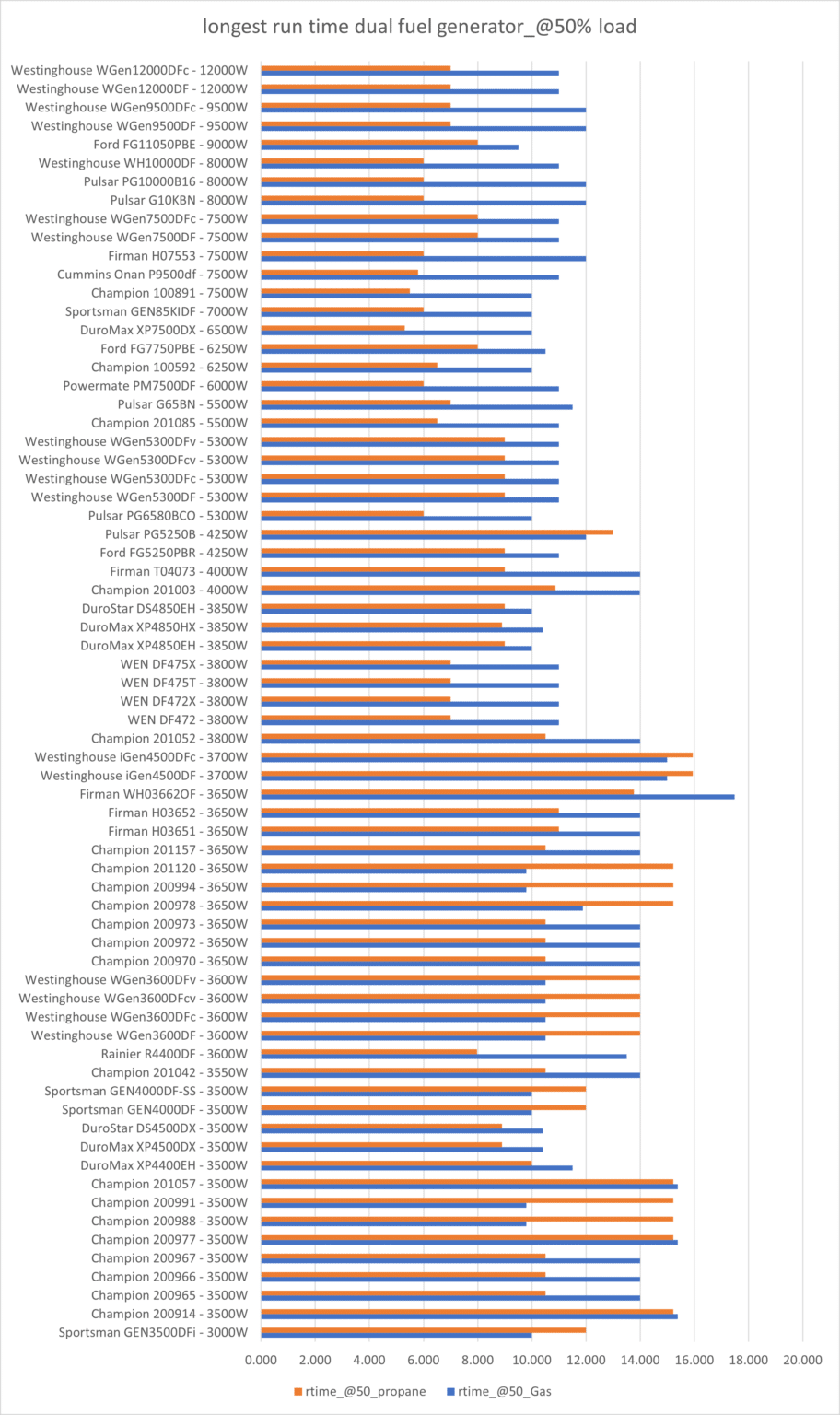 How Long Can a Generator Run Continuously?
So, how long can a generator run? portable gasoline-powered generator can run for up to 12 hours at a time. A propane-powered portable generator can run for up to 5-8 days if continually refueled. Using a large propane tank, you will need a generator that can keep the propane tank topped off for a long time.