Exploring new places in a pop-up camper is enjoyable. However, as you leave, you are no longer near any wall outlets. As a result, charging your smartphone or laptop or running the air conditioner can be difficult.
However, with hundreds of portable generator types and other power choices such as solar available, camping is now easier than ever. You simply need to select the right model for your needs.
What size generator for pop up camper? Many people ask us this question when camping or boondocking.
If you have air conditioners a minimum of about a 3500-watt generator is recommended, if you don't have an air conditioner or aren't concerned about that much power of course you can step it down a little bit like 2200 watts.
It would be nice to have a 30-amp receptacle right in your generator. That way you can fire up your generator plug in your 30-amp plug and it's just like you would be plugged into shore power.
With solar power of course you're going to need some solar panels which are then going to connect to some sort of charge controller which will then connect into your battery system and when the sun's out you'll of course be drawing energy into your 12-volt batteries or you can use large portable power stations with solar panels that have 30-amp receptacles and you can plug in your 30-amp plug with negligible noise.
Continue reading to learn how to determine best size generator for pop up camper.
If you're sleeping in a pop-up camper, you should be aware of how noisy the generator is and how much gas it will consume.
For you, we've reviewed some effective portable generators (gas and solar). Take a close look at their features to determine the best generator for pop up camper and make your next camping trip more convenient with a portable power source.
Top 6 Generator for Pop up Camper
Champion 4500-Watt Portable Inverter Generator

Runtime: 14 hrs. @ 1/4 load

BLUETTI Portable Power Station AC200MAX, 2048Wh

A-iPower SUA2000iV 2000 Watt Portable Generator

Runtime: 7 hrs. @ 1/2 load

WEN 56380i 3800-Watt Portable Inverter Generator

Runtime: 8.5 hrs. @ 1/2 load

Honda EU2200IC 2200-Watt Portable Inverter Generator

Runtime: 8.5 hrs. @ 1/2 load

Predator 3500W Inverter Generator by Harbor freight

Runtime: 11 hrs. @ 1/4 load
Do You Need Generators for Pop-Up Campers?
So, do you need a generator for a pop-up camper? Let's find out. You have two types of electricity in a popup 12 DC and 120V AC. The Ac is required for high voltage appliances in the camper.
The heart and soul of your pop-up camper's electrical system is called a converter that converts electricity from 120V down to 12 volts whereas an inverter does the exact opposite 12 volt to essentially 120 volts but like we said the converter is the heart and soul of your electrical system.
We would say the majority of us probably go to campgrounds that have electricity available there's probably you know some sort of post and commonly a 30 amp or a 50-amp connector and we'd say most pop-ups connect into a 30 amp so you'll take out of course the cord out of your pop-up plug it into that shore power and then of course you have 120 volts running into your pop-up camper.
| Things that Will Not Work | Things that Will Work Though |
| --- | --- |
| The outlets | Interior lights |
| Rooftop air conditioner | Propane detector |
| Microwave | Propane heater fan |
| Heater | Water pump |
| Refrigerator | Roof vent fan |
| | Cassette toilet |
| | Radios & speakers |
| | Electric tongue jack or roof lift |
| | USB or 12V socket outlet |
let's say you're boondocking dry camping and only have a battery. There are a few things in your pop-up camper that won't work if you're just on 12 volts that's you don't have generator or shore power.
That one thing out there that actually runs on both and not only both 12 volts and 120 volts but also propane and that is of course your three-way refrigerator now if you're plugged into shore power switch that on 120V, works no problem if you're out there boondocking highly recommend using propane that's actually a pretty efficient means of cooling down your pop-up camper.
Now your refrigerator also runs on 12-volt and this kind of brings me into my next system um with regarding your pop-up camper and electricity and that is when you plug your pop-up camper into your tow vehicle via your wiring harness so let's say you have a 7-pin wiring harness for your pop-up camper that plugs into that 7-pin connector in your tow vehicle that will enable when you're traveling down the road for your tow vehicle to charge your on-board battery.
That on board battery in turn will be able to keep your pop-up camper refrigerator cool utilizing 12 volt so that's kind of a nice thing but that's the only scenario that we would recommend utilizing 12 volts to keep your refrigerator cool and it's really not even to cool down your refrigerator it's just to maintain temperature so let's say you pre-cool your refrigerator prior to going out it's really just to maintain that temperature that you've pre-cooled that refrigerator.
How Many Watts Does a Popup Camper Use?
How do you calculate the wattage & amps required for pop up camper? When you plug in your popup/travel trailer or use a generator, the source's role is to supply 120 volts AC to 12-volt DC to power all of the 12-volt appliances and accessories in the pop-up.
If you were not connected to a power source, your battery would power all of the 12-volt appliances and accessories in the camper. When you're connected in, the converter keeps your pop-up's battery from depleting.
When you plug your pop up camper into an electrical source and use 120 volt appliances such as the roof air conditioner, microwave, and TV, you are drawing amps from the campground's available supply, which is usually 30 or 50 amps depending on your pop up's electrical system and the electrical supply you are plugged into.
When you plug in an electrical source and utilize DC appliances and accessories like fans, lights, pumps, or the TV antenna booster, you are taking amps from the converter.
Assume you plug your pop up camper into a 30 amp supply and solely use 120 volt appliances. You're consuming virtually 0 amps from the 30 amp electrical supply because you're not utilizing any DC accessories, but you're using available amps from the 30 amp electrical supply for whatever 120 volt appliances are running.
It will use a small amount for equipment such as the LP gas leak detector, clocks, and possibly an aisle light, but not enough to significantly alter the amperage you are plugged into.
Your pop up camper's converter has an amperage rating, such as 30 amps, 50 amps. In other words, a 50 amp converter can power 50 amps of 12 volt appliances. When your camper's converter is operating at full capacity, which in this example is 50 amps for 12 volt appliances and accessories, it consumes the entire 50 amps available from the campground electrical supply.
Assume you're plugged in and using two 12 volt overhead lights (2 amps) and a ceiling fan (4 amps). In this situation, your converter uses relatively little of the camp grounds' 30 amp power supply.
In another instance, suppose you are running a lot of 12 volt overhead lights (7 amps), the furnace fan (10 amps), the water pump (3 amps), the TV antenna booster (7 amps), and the converter charger is running the battery (3 amps).
That's full 30 amp. When the converter is nearing capacity, it drains the full 30 amps from the campground's 30 amps, leaving you with 0 amps for additional 120 volt appliances and accessories.
As you can see, all of this is unlikely to occur at the same time. In the end, the converter amperage draw will vary based on the 12 volt demand placed on it.
To assist you with your amp and wattage chart, I've included some average amperage pulls for appliances and accessories often found in popup campers/travel trailers/RVs. This is just a rough guide to help you figure out how many amps you're utilizing at any particular time. Check the data plate on any motors, appliances, or electronic equipment you are utilizing for correct amperage values.
If you can't check a data plate with this information, consult the owner's manual for the appliance or electronic equipment. This data may include wattage needs rather than amps. Here are a few simple formulas to assist you in converting some popular electrical phrases.
Amps = Wattage/Volts
Wattage = Amps X Volts
Another thing to bear in mind is that many appliances require more amps to start than they do to run. A roof air conditioner can use 15 amps to start, but it may only use 12 amps once it is running.
What Are the Other Options to Power Your Pop up Camper?
Portable generators are as mobile as pop-up campers. In other words, they make sense together. If your pop-up camper does not have a built-in generator, you may easily power it with a generator. The other option is to buy a portable power station with solar panels.
These portable power stations or indoor generators can power all of your appliances at once, which makes camping easier.
But before you go and get a portable generator for pop up camper, you need to figure out what size generator do you need for a pop up camper with AC or without one.
What Size Generator Do You Need for Pop-Up Camper?
The wattage values of your pop-up camper's appliances combined serve as a measure for determining whether the electricity you supply to your camper is adequate.
Pop-up campers typically consume between 2000 and 3500 watts, with some air conditioning units exceeding 3500 watts. This is determined by the size and appliances in your camper as well as the size of your air conditioning unit.
It's important to make sure you have the right size generator for your pop up camper. In general, 2000 watts to 4000 watts power generator will be enough for most pop up campers.
Generator for Pop up Camper – Detailed Review
1. Champion Power Equipment 200986 4500-Watt Portable Inverter Generator, RV Ready
If you want a generator that will easily start, run quietly, and provide more than enough power for your popup camping or RV needs, this is it.
The Champion 200986 is powered by a 212 cc OHV 4-stroke gasoline engine. It has a 120V output and a running wattage of 3500W and a peak wattage of 4500W. Furthermore, the unit is parallel capable and can thus be coupled to a similar or compatible unit for increased power.
The inverter generator has a basic classic pull-start mechanism and a noise rating of 61 dBA. The EZ Start Dial of the generator allows you to start the engine intuitively while still having easy access to all of the settings you require.
The 200986 has a fuel capacity of 2.3 gallons and can run for up to 14 hours on a full tank (fuel consumption: 0.16 GPH).
In terms of return on investment, nothing beats an inverter generator with a decent wattage to make off. It can run for 14 hours at 25% load (2.3-gallon tank), which is quite good for an inverter generator of this size.
2. BLUETTI Portable Power Station AC200MAX w/ Solar Panel
Despite its appearance, the AC200MAX outperforms the AC200P in many respects. It has a LiFePO4 battery pack that is extremely long-lasting (2048 Wh, 3,500 cycles), as well as a 2200 W pure sine wave inverter. Additionally, it has faster and more flexible options for solar and AC charging, which makes it ideal for camping and other off-grid lifestyles.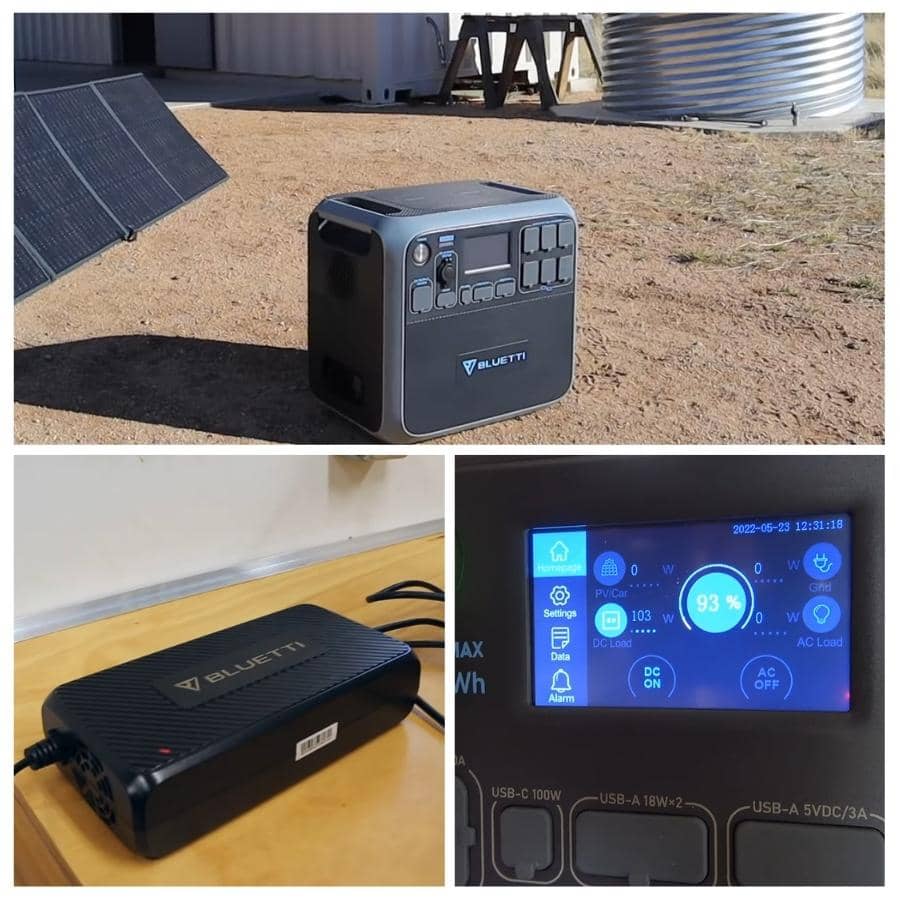 The Bluetti AC200MAX includes a 2048wh battery and an inverter that can provide 2200W of continuous power and a surge of up to 4800W. This high-capacity battery can power important equipment for a lengthy period of time. Because it can run a lot of power, you can even use a microwave, a coffee consumption, or an air conditioner (for one hour and a half).
On the front panel, there are five AC outlets that can output a maximum of 2200W. To power RV/popup camper, a single-phase NEMA TT-30 connection is there. There are four high-current 12V ports included. Two DC 5521 with a combined power of 120W for charging cameras or RC vehicles, one cigarette lighter with a power output of 120W, and one output with 360W for charging a variety of low-voltage appliances such as a mini refrigerator.
3. A-iPower SUA2000iV 2000 Watt Portable Inverter Generator
If you don't have an AC in your pop up then 2000 watt is perfect. The A-iPower SUA2000i delivers 2,000 watts of starting power and 1,600 watts of running power in a clean, quiet package. The generator, which is powered by a 79cc A-iPower engine, is suitable for outdoor activities such as concerts, pop up camping vacations, tailgating parties, RVs, and many other uses.
The 79 cc OHV 4-stroke engine that produces 120V, runs on gasoline, and it is parallel capable. So, the power can be doubled when attached to another similar or compatible unit.
The inverter generator is started using a simple classic pull-start mechanism and has a noise rating of 58 dBA.
With a fuel capacity of 1.1 gallon, the SUA2000i can run for up to 10 hours on a full tank (fuel consumption: 0.11 GPH). The SUA2000i makes a clean sine wave. With a Total Harmonic Disruption (THD) of less than 3%, you can safely plug your sensitive electronics into the AC outlets.
4. WEN 56380i Super Quiet 3800-Watt Portable Inverter Generator
If you're seeking for a good that won't cost you an arm and a leg, you might have found it. WEN 56380i is a new 3800 inverter generator designed exclusively for travel trailer and pop up camper enthusiasts. It's an pop up camper ready generator with an AC 120V NEMA TT-30R RV outlet. This is great news for camper owners because it eliminates the need for additional adapters.
As multiple reviews have shown, it could very well be one of the best generator for a pop up camper right now. Furthermore, it frequently sells for a fraction of the price of more expensive 3000 watt inverter generators such as the Honda EU3000is. This alone might easily make it a genuine winner.
The generator has a very sleek and modern appearance. It is around the same size as Champion 3400-Watt Dual Fuel RV Ready Portable Inverter Generator, which are popular RV choices. It's also much lighter and smaller than the Honda EU3000is.
The wheels and a cozy candle make it even easier to move around. This inverter generator, which has a noise level of 57 dBA, may be started using a conventional pull-start mechanism as well as a simple and beautiful electric starter.
With a full tank and a fuel capacity of 2.2 gallons, the 56380i can run for around 8.5 hours at 50% load (fuel consumption: 0.26 GPH).
Sensitive electronics can be safely connected into AC outlets since the 56380i generates a pure sine wave with a THD of 1.2 percent (THD).
5. Honda EU2200IC 2200-Watt Companion Super Quiet Portable Inverter Generator
The Honda EU2200i is unquestionably one of the best quiet generator for pop up camper available. Honda has done an excellent job of enhancing a product that was already at the top of the list of the best performing portable generators on the market.
The EU2200i companion includes one 30 Amp receptacle for RV applications (needs extra adaptor) and one 20 Amp receptacle, with the 30 Amp connector allowing two EU2200i units to be run in parallel through a simple parallel wire.
The size is ideal for recreational and camping activities. It is simple to start and generates enough power to power practically any small appliance. What's the best part? You can also run sensitive electronic equipment like laptops. The fuel gauge is the one item we really miss.
The Honda EU2200i is a gasoline-powered inverter generator. It has 1,800 running watts and 2,200 starting watts.
The EU2200i is powered by a gasoline-powered Honda GXR120 engine that provides exceptional durability and dependability. In general, we consider Honda engines are among the best on the market.
The tank has a capacity of 0.95 gallons. On a full tank, we have pulled for more than 3 hours at 100% load and for more than 7.5 hours at half load.
To get a good runtime, the generator must be in good working order. The oil must not be scorched, and the spark plug must be clean.
Honda EU2200i Companion vs EU2200i – What's the Difference?
When it comes to the EU2200i and its companion model, Honda's quality and attention to detail don't differ much. They are both part of Honda's Super Quiet series (EU).
The only difference is that the Honda EU2200i Companion has a 30 amp outlet instead of the standard EU2200i's 20 amp DC outlet. This is especially important for camper owners. Aside than that, the EU2200i Companion is identical to the other variants. It has the same amount of power, low noise level, and other advantages.
6. Predator 3500 Super Quiet Inverter Generator
The Harbor Freight Predator 3500 watt extremely quiet gas generator for pop up camper. At 25% capacity, it has a run time of 11 hours. This generator is great for RVs, tailgating, and camping as an off-grid power source.
The Predator 3500's engine, a 212 cc (6 hp) OHV 4-stroke powered by gasoline, can deliver 120V. It has a running wattage of 3000W and a maximum wattage of 3500W. Furthermore, because the generator is parallel capable, it can be coupled to a second unit for increased power.
The inverter generator offers a basic classic pull-start mechanism, as well as a practical and easy-to-use electric starter, with a noise level of 56 dBA.
Sensitive electronics can be safely connected into AC outlets because the 3500 provides a pure sine wave with a THD of 5%. (THD). SuperRobkar YouTube channel measured the THD to be <2%.
When compared to other generators, such as the Generac iQ3500, it provides more power capacity for a somewhat longer period of time. When similarly filled, the Generac IQ3500 can run for up to 14 hours.
The manufacturer includes a funnel, a tool kit, an RV adaptor, and battery charging cables.
Best Generator for Pop up Camper – Buying Guide
Before purchasing a generator for a pop up camper, consider the following criteria.
Power
This is perhaps the most important consideration when selecting a generator. Most customers are unconcerned about other variables since they only consider a generator as a source of power.
That is partially correct. The primary purpose for purchasing a generator is for power. As a result, you'll need a generator to power all of the camper's appliances. Some people calculate the running wattage of electrical appliances incorrectly.
However, when starting up, devices consume more power. So, if you buy a low-powered generator, the devices may not get enough power.
Generator Type
In this instance, conventional generators are relatively common. They are less expensive than current inverter generators. However, these generators have a flaw. They produce alternating current as an output, which is frequently unstable.
Power fluctuations might cause damage to your sensitive appliances. Inverter generators, on the other hand, transform the output current in DC and then revert it to AC to produce a more stable output.
Because of this, inverter generators work better and are safer to use. However, these generators are typically more expensive than their conventional equivalents.
Fuel Consumption
The cost of fuel can vary based on how much power you take from the generator. However, an efficient generator will significantly minimize your fuel costs.
These generators may cost a little more to purchase, but they will save you money in the long run. So, don't be tricked by low costs. Instead, check out how much fuel your chosen generator will save you by checking its consumption rate (GPH).
Portability
Generators for pop-up campers should be small and easy to move around. Although the size and weight of the generator are mostly determined by its power, compact ones with the same power can always be found.
When necessary, you can carry your generator with you when you leave the campsite using a portable unit.
Noise Level
A generator that screams like a helicopter might not be the best place to sleep. You'll have a better time camping if you get a quieter generator. Inverter generators make to be noise than conventional generators.
To find out how loud the generator is, look to the specifications. Select a device with a sound pressure level (dB) below 65.
Generator Recommendation for Pop up Camper (Lithium Battery vs Fuel Powered Generators)
Listed here are both lithium-ion battery-powered generator and fuel-burning generators. Each has its merits and cons which are discussed in depth below.
The type of generator is a personal one based on personal taste and needs. Lithium battery generators are smaller, lighter, and more portable if you don't require as much power.
If you need more power for longer periods of time, you'll have to give up quietness and portability with a generator that runs on fuel.
Lithium Battery Powered Generators
The lithium battery powered generators are not like the batteries that you put in your TV remote or camera. Instead, they are incredibly high-quality and powerful and can get the job done for the wattage included in pop up campers.
However, they will never put out as much power as fuel-powered generators. Even though they are quieter they are always going to be less powerful than their fuel powered brothers and can be annoying to charge when you really need power.
Fuel Powered Generators
Generators with a motor that burns gasoline propane to power their engines are always going to be the more powerful of the 2. You will also be able to last with power for as long as you have fuel which can be easily added to a generator.
The downside of fuel-powered generators is that they are incredibly noisy and must be refueled from outside sources.
Do Pop Up Campers Come with Generators?
It is possible to purchase a pop-up camper with a generator built right into the unit, although this is not common. The advantages and disadvantages of having a built-in generator should be carefully considered before making a final decision.
Before making any important purchases, make sure to examine different viewpoints and investigate what your specific needs include.
Pros of Campers with Built-In Generator
The most important benefit of having a generator built into your camper is the peace of mind that comes with knowing that no matter where you go, you'll always be comfortable.
The power level of larger, permanently installed generators is often higher than that of smaller, portable units. As we've covered, a bigger generator isn't always better, but if you place a high value on reliability, this could be a good option for you. Most of the time, you can set these generators to turn on and off automatically. This saves gas because your camper only gets power when you need it.
You may be able to save time during setup by connecting all of your appliances to a single power source. A single switch should be able to supply power to your entire camper, saving you from having to deal with many generators.
Cons of Campers with Built-In Generator
The most major drawback of a built-in generator is, however, just that: a built-in disadvantage.
Because this generator is a component of your camper, you must integrate it into a part of each camping trip. Regardless of whether you intend to use it, your generator will take up valuable room in your camper, which is almost certainly already cramped.
These generators' affordability and dependability come at a price. Built-in generator campers can cost substantially more, and after you've bought your camper, you'll need to pay exorbitant installation costs to add a permanent generator.
Installing Generator on Pop up Camper
In most cases, pop-up campers are made to be set up using a portable generator. One of the components you'll need in your travel trailer is a generator, which gives you the flexibility you crave.
So, if you have a great generator for your pop up camper but don't know where to put it, some excellent possibilities include
Creating a customized cargo carrier box or bumper box.
The trailer's roof.
Put it above the battery box, behind the propane tanks.
Using a hitch to attach it to the bumper.
Install it on an A-frame above the propane tanks.
Here are some good generator mounts for pop up camper you can find on Amazon.
Frequently Asked Questions
Can a 2000-Watt Generator Power a Pop-Up Camper?
Maybe, but it won't be able to power all the things inside the camper at once. It would depend on the number and type of loads that your point needs powering, such as if it is a freezer or just lights, etc. However, in general, 2000W should only be able to power a few small appliances and lights.
How Big of A Generator Do I Need to Power a 30 Amp Pop-Up Camper?
A camper with a 30-amp circuit can be powered by a 3500 watt generator. If you don't have enough amps, the generator will only run at half power and may get too hot.
Can a 5000-Watt Generator Run a Camper?
Yes, a camper has ample power with 5000 watts. However, you might also need to purchase an inverter. Some camper appliances, like as lights and fans, which cannot operate on DC current, can be used by an inverter to convert the DC current from your generator into AC electricity. Inverters typically cost between $250 and $500, so budget at least that much for the purchase if one is required.
Can a 3000-Watt Generator Power a 30 Amp Camper?
Yes, a 3000 watt generator has adequate power to run a 30 amp camper running. However, you should preserve a safety margin and keep emergency situations in mind. Consider purchasing a 3600 watt generator if it is possible to run many large appliances simultaneously.
How Do You Connect a Camper to A Generator?
Connecting a portable generator to your pop-up camper is fairly simple. Finding a good location to put the generator is the first step. To ground the generator, connect a grounding rod with a copper wire to the generator.
After that, you may attach your camper's generator cable to the generator. Remember to keep the generator's exhaust pointed away from the camper to prevent breathing in hazardous smoke.
How Long Can I Run the Generator on My Pop-Up Camper?
Depending on the model, the generator's running time varies. The majority of portable generators can be used continuously for up to 20 hours. Your camper's built-in generator, however, can run continuously for up to 100 hours.
Conclusion
Even after cutting down the choices, you could get confused about which generator to purchase for your pop up camper.
Consider how many watts you'll need for the appliances and devices you wish to run when choosing the size of your generator. If a high wattage sounds adequate for your needs, then go for that. But if not, don't be hesitant to purchase anything smaller like 2000 watt generator.
The Champion 4500-watt inverter generator, with its 212cc engine and 14-hour runtime, may be the best generator for a pop-up camper. All your appliances will start up quickly and easily thanks to the inclusion of features like cold start technology and an EZ start dial.
While being incredibly small and portable, it also offers clean power to smoothly run all of your sensitive equipment. A great option for any pop-up campers out there.
Read Next: