So, what is the biggest inverter generator? How big of an inverter generator do they make? What is the largest dual fuel inverter generator?
Inverter generators are known for being slightly more expensive than conventional generators, but this is justified because these generators are quieter, more efficient, and last longer than non-inverter counterparts.
Large inverter generators will meet your demands and then some, whether you're searching for a decent generator to power your RV for road trips or as a backup for home power outages.
These large inverter generators are ideal portable power stations. While these large generators won't power an entire house, they'll suffice for tailgating, camping vacations or emergencies. It might be difficult to know which portable inverter generator to pick if you're contemplating one of these largest portable inverter generators for your high wattage needs.
We researched some of the largest inverter generator available on the market to assist you in your search. Our reviews are below, along with some important information to find you the best large inverter generators.
You'll find a range of products from prominent companies, as well as some less expensive alternatives, in our review of the largest inverter generator made.
This review includes a wide range of generators for all types of buyers. Midsized to biggest quiet inverter generator for home, camping, and food trucks will be available, from 5000 watt to 9000-watt inverter generators as well as dual fuel inverter generators. If you are just concern about low THD, have a look at our post about low THD generators.
Top 7 Best Large Inverter Generators – Quick Comparison
Champion Power Equipment 8750-Watt Open Frame Inverter

Runtime: 10.5 hrs. @ 25% load

Fuel Type: Gasoline & Propane

Briggs & Stratton Q6500 Quiet Power Series Inverter Generator

Runtime: 14 hrs. @ 1/4 load

BLUETTI AC200MAX Portable Power Station w/ Ext. Battery

DuroMax XP9000iH 9000-Watt 459cc Dual Fuel Digital Inverter

Runtime: 11 hrs. @ 50% Load

Fuel Type: Gasoline & Propane

Westinghouse iGen4500DFc Portable Inverter Generator

Runtime: 18 hrs. at 25% Load

Fuel Type: Gasoline & Propane

Honda EU7000IAT1 Quiet Portable Inverter Generator

Runtime: 16.0 hrs. @ 1/4 load

Yamaha EF6300iSDE Inverter Generator

Runtime: 13.3 hrs. @ 1/4 load
What Is an Inverter Generator?
An inverter generator does not have an independent engine and generator; instead, it merges these two components into a single machine, making it lighter and more compact. Inverters works by converting AC power to DC power and then converting it back to regulated, stable, and high-quality AC power.
These generators run at low rpm, are quieter, and consume about the same amount of fuel whether on low or high. In the most basic terms, an inverter is similar to a standard generator, but allows you to get the exact amount of power you need at any given time rather than constantly running at full throttle.
Inverter Generator vs. Conventional Generator
A generator with an integrated inverter is known as an inverter generator. The actual difference between an inverter generator and a conventional generator boils down to overall efficiency.
A consistent speed is maintained by standard generators. These speeds are dependable, but they aren't changeable. They can increase noise, fuel consumption, and exhaust emissions. Inverter variations can alter their speeds according to the amount of power that is required.
Generators using inverter technology feature innovative engines that adjust their speeds based on the load they're carrying. Generators with inverters are therefore quieter, more fuel efficient, and ecologically beneficial.
Highest Wattage Inverter Generator – Detailed Review
1. Champion Power Equipment 100520 8750-Watt Hybrid Open Frame Inverter with Electric Start
A 420cc four-stroke large engine powers the Champion 100520 open frame inverter generator, resulting in low fuel consumption and high performance. This is the biggest champion inverter generator out there. This large inverter generator has a starting power of 8750 watts and a running power of 7000 watts, which is rather big for an inverter generator.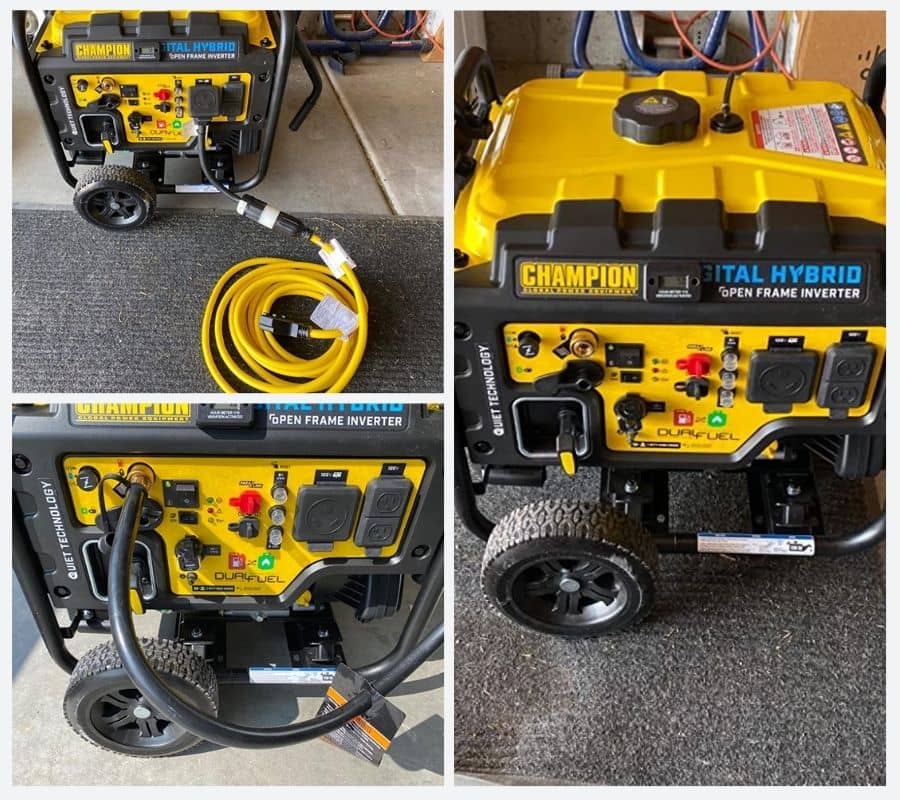 The Champion's largest inverter generator is 30% quieter and 25% lighter than similar inverter generators. It's a low-cost power solution with cold-start technology that provides a speedy start in inclement weather. One of the largest RV portable inverter generators with 30 amp outlet.
Its engine generates 8750 starting watts and can run for up to 10.5 hours at 25% load. This largest watt inverter generator produces only clean power and comes with a variety of outlets, including a DC automotive-style outlet, a dual USB converter, and battery-charging cables.
If you are looking for the largest champion dual fuel inverter generator, then have a look at Champion 10000/8000-Watt Dual Fuel with 120/240V operation.
2. Briggs & Stratton Q6500 Quiet Power Series Inverter Generator
The Briggs & Stratton Q6500 is a large inverter generator with a peak power of 6500 watts, making it the company's biggest capacity inverter model. This large low-cost inverter generator is primarily intended for use as a backup power source at home. You may also use this rather large inverter to power your tools, appliances, or electronics at campgrounds, tailgates, and even construction sites.
With its highly efficient 306cc engine, the large Briggs & Stratton Q6500 quiet series inverter generator can provide 6500 watts of starting power and run continuously for up to 14 hours.
It's surprisingly small for all of the power and features this large inverter generator offers, including carbon monoxide shutdown safety technology, which may actually save your life. That's why this is our choice for the largest inverter generator for home use.
3. BLUETTI AC200MAX Portable Indoor Battery Powered High Wattage Inverter Generator
The AC200MAX has a 2200W pure sine wave inverter (4800W surge) and a 2048Wh high capacity, which may be increased to 6144Wh when used with two B230 battery modules. This is one of the largest inverter generator on the market that is battery powered.  The AC200MAX large power station can handle up to 700W of solar power and 500W of alternating current power.
You may even combine the two sources to get a total charging rate of 1200W. The large B230 battery module may also be charged separately through AC/solar/car. The premium BMS and lithium phosphate battery promise 3500+ life cycles to 80% – approximately 5 times the typical battery cell longevity.
Beautifully put together. Given what it is, it is rather light. The firmware couldn't be updated at first, but it was rectified after an app update. It's one of the few largest inverter generators with a 30 amp plug for RV.
Because of the high wattage capacity of the battery, it can run important equipment for an extended period of time. According to Bluetti, a CPAP machine may last up to 40 hours. The ability to run devices that conventional battery power stations can't manage, such as phones, laptops, televisions, coffee makers, hair dryers, air conditioners, CPAP machines, and microwave ovens, thanks to high wattage and surge capacity.
The Goal Zero Yeti 6000X, BLUETTI EP500 and the AC200MAX w/ external battery are the best biggest portable power stations ever made.
4. DuroMax XP9000iH 9000-Watt Hybrid Dual Fuel Inverter Portable Generator with CO Alert
The XP9000iH is one of the largest digital inverters on the market, making it available for emergency home backup or worksite power. To run your TVs, computers, and other sensitive electronics, use clean power. This largest inverter has a digital control center that allows you to see power output, load level, and running hours all in one place. Connect a second XP9000iH to a parallel kit for making it even larger and double your power.
The DuroMax XP9000iH's dual-fuel technology enables for a 120/240V output, providing excellent power and adaptability. Market's largest inverter generator, with 9,000 peak watts and 7,600 running watts, is ideal for emergency home power, worksite use, or RV camping.
This biggest portable inverter generator, which has a noise level of 68 dBA, may be started using a conventional recoil start mechanism or the electric starter.
5. Westinghouse Outdoor Power Equipment iGen4500DFc Dual Fuel Portable Inverter Generator
The Westinghouse iGen4500 Dual Fuel generator is an excellent power for RVs and campers with two air conditioners. This is one of the only midsized inverters on the list. This fuel-efficient, whisper-quiet generator has 3,700 running watts and 4500 peak watts, a 120V 30A (TT-30R) outlet for RVs and campers, push-button electric start, and a telescopic handle with rear wheels for easy transport. It will be dual fuel capable, allowing it to run on either propane or gasoline.
The iGen4500 Dual Fuel inverter generates clean power, allowing sensitive electronics like computers, TVs, tablets, and cell phones to operate safely. Remote start is available on the iGen4500 Dual Fuel, which features you to start the generator from within your home or RV using a key fob. Push Button Start is also available on the control panel.
Available Run Time, Fuel Level, Power Output, and Voltage are all displayed on the LED Display. Electric Output, Fuel Level, Electric Output, Overload Indicator, and Low Oil Indicator are some of the other signs. This generator complies with CARB regulations.
6. Honda Power Equipment EU7000i 7000-Watt Super Quiet Portable Inverter Generator
The Honda EU7000iS has been re-engineered as the Honda EU7000iSNAG with a built-in carbon monoxide (CO) monitoring system that automatically turns down the generator when unsafe CO levels are detected. This is referred to as Honda's CO-MINDER system. The EU7000iSNAG biggest honda inverter generator on the market right now. It is also our choice for the largest quiet inverter generator.
With large 7000 watts and 120/240 V, this generator is suitable for home backup power and big outdoor events. Not only can the EU70is power caravans, food trucks, and outdoor events, but it can also power frequency-sensitive devices like refrigerators, cellphones, computers, and sound equipment.
It is also extremely quiet and fuel efficient. It can run for at least 18 hours on just 5.1 gallons of fuel. It's an large inverter generator with an easy-to-use electrical start. This large generator is relatively low maintenance and has good fuel efficiency.
By adding a parallel kit, you may increase its output to 11,000 watts (14,000 surge watts), which is large enough to power key home appliances like an AC.
There aren't many alternatives for largest inverter generators with the same capacity, but the Yamaha EF6300isDE and the Briggs & Stratton 30675 Q6500 are also close contenders. The maximum power of both options is 6300 watts and 6500 watts, respectively.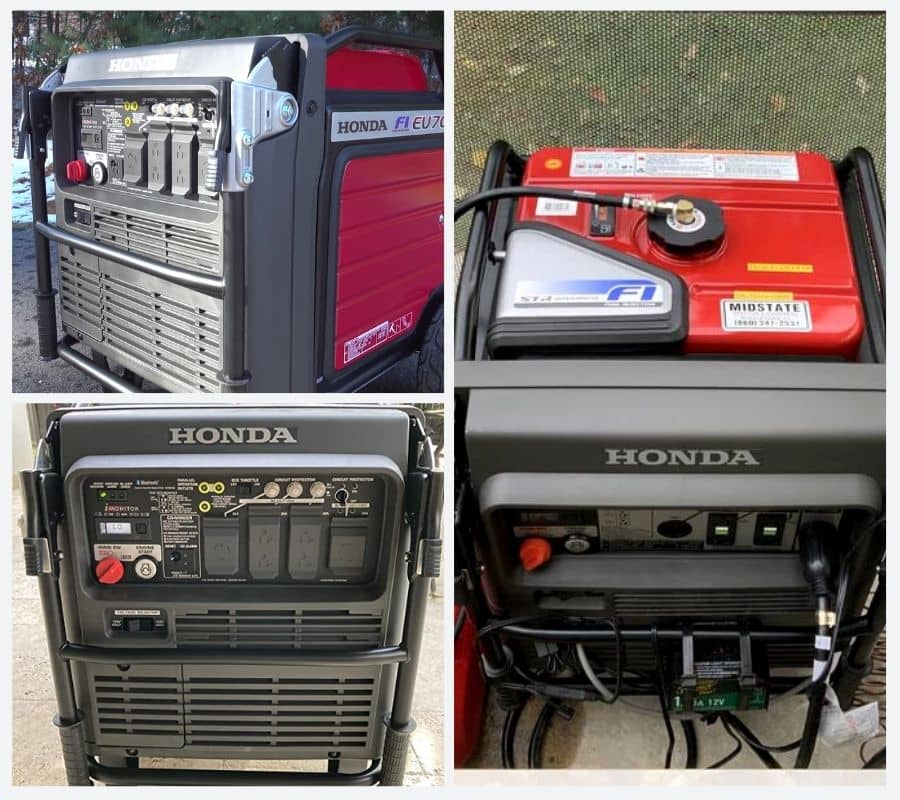 The Champion's largest open-frame inverter generator is 30% quieter and 25% lighter than similar inverter generators. It's a low-cost power solution with cold-start technology that provides a speedy start in inclement weather.
However, because the Honda model's running and surge wattages are so far apart, there isn't much of a difference in running wattage when compared to the other manufacturers. The Yamaha has 5500 watts of running power, whereas the Briggs & Stratton offers 5000 watts of continuous power.
7. Yamaha EF6300iSDE Gas Powered Portable Inverter Generator
The Yamaha EF6300iSDE is powered by a large Yamaha MZ360 OHV 4-stroke engine with a displacement of 357cc. This large inverter generator has a running wattage of 5500W and a peak wattage of 6300W, and it offers on 120/240V and gasoline.
This is our last entry for the "what is the biggest inverter generator you can buy?" This large inverter starts up with a simple and attractive electric starter and has a noise level of 58 dBA.
Yamaha's Smart Throttle is included on this generator. The load-sensing function changes the engine speed to meet the load, resulting in improved fuel efficiency and noise reduction.
The EF6300iSDE has a fuel capacity of 4.5 gallons and can run for up to 13.3 hours on a full tank. The fuel consumption around 0.34 GPH.
Your sensitive electronics may be securely connected in the AC outlets owing to the EF6300iSDE's clean sine wave, which has a Total Harmonic Disruption (THD) of only 4%.
Best Large Inverter Generators – What to Consider?
In the event of a power outage, the biggest inverter generators can provide backup power for a whole residence or a campground/RV. When it comes to choosing the largest inverter generators for your backup power needs, there are a number of crucial variables to consider. The information below will assist you in determining which large inverter unit will give you with enough power, mobility, and convenience.
1. Fuel Type & Capacity
Inverter generators normally run-on gasoline, however dual fuel generators may also run-on propane. This is a significant benefit since it allows you to select the fuel you use based on your specific requirements, such as power output needs, local fuel availability, and the fuel type you have on hand.
The larger the generator's fuel tank, the longer it will be able to generate gasoline-based power, but the generator's size will also rise. Gasoline provides more power than propane.
2. Power Output
Wattage should be the most critical factor as you shop Inverter generators, like open-frame generators, are available in a variety of wattage ratings. The power output is proportional to the wattage rating. Higher wattages normally imply larger, more costly units, so here's how to figure out what size is suitable for you
Light duty: 2,000 to 3,500 watts – tent camping, tailgating, etc.
Medium duty: 3,600 to 5,000 watts – RV camping, emergency home use, job site.
Heavy-duty large generators: 5,000+ watts – powering a small home, powering a welder.
3. Noise Level
Physical size and weight will be a factor for some. Typical 5000 watt plus large inverter generator can weigh up to 250 lbs. If you are looking for largest portable inverter generator than wheel kit is a must.
4. Recoil & Electric Start
Electric start, recoil cord, or sometimes both ignition techniques are available on inverter generators. Generators with an electric start store excess electricity in an internal battery, which immediately starts the equipment.
Users can activate the system by pressing a button on the keypad, using the keyfob, or by turning the switch. Many fuel-powered tools employ the recoil cord, which is an older yet reliable technique. To start the engine using this manner, you must pull the recoil cord fast and steadily.
5. Size and Weight
The noise difference between a large inverter and a conventional generator is the most evident. Open-frame generators are extremely noisy, with decibel levels surpassing 100 decibel. Closed-frame inverter generators are frequently in the 50 to 60 dB range. Large Inverter generators with open frame models can go up to 75 decibel.
Which One Is the Best Large Inverter Generator?
There are a surprising number of elements to consider while selecting the best biggest inverter generator. You'll need a generator that can create enough power to meet your requirements while still being portable. We hope that this information assisted you in determining the best model for you depending on your current circumstances.
We would also like to mention some other well know brands like Generac and WEN that make inverter generators. The Generac 7127 IQ3500 is the biggest generac inverter generator out there and WEN DF875iX 8750-Watt is the largest wen inverter generator.
The Champion Power Equipment 100520 8750-Watt DH Series Open Frame Inverter is recommended for most users. This powerful generator can handle most tasks, such as powering a portable light when camping. It is, nevertheless, both affordable and portable. It contains all of the features you require and none of the ones you do not.
If you need something bigger, like what is the highest watt inverter generator then, the DuroMax XP9000iH 9000-Watt 459cc Dual Fuel Digital Inverter is the one for you. This generator is largest inverter generator available and is safe for sensitive electronics. It generates sufficient power for all type of needs.
Other ways people find this article:
Read Next: