The Duromax XP12000EH is a powerful 12,000-watt whole-house generator that runs on both gasoline and liquid propane. The dual-fuel function provides you more options, as well as a more reliable power source during more extended power outages.
The Duromax XP12000EH is a high-capacity dual-fuel portable generator that works well as a home backup generator. It's less expensive and more adaptable than a backup generator, yet it still has enough power to operate most household appliances.
The engine can deliver 12,000 watts of surge power and 9500 watts of continuous power while running on gasoline. Massive power output, isn't it. The machine has a surge power of 11,400 watts and a running power of 9025 watts on liquid propane.
This cart model with wheels is not only ideal for keeping the essential electronics running at home, but it's also appropriate as a worksite generator owing to its heavy-duty construction. It has a full-metal frame with fully separated motor mounts.
Duromax XP12000EH – Review & Summary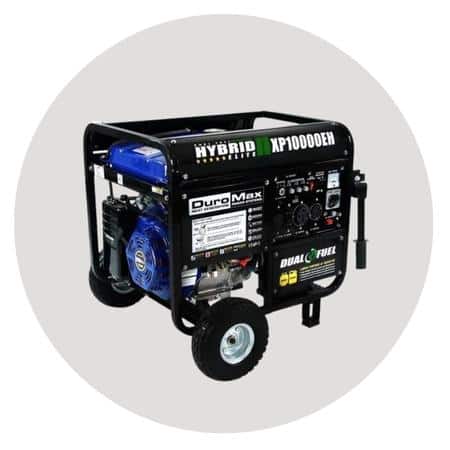 For individuals who want a full home backup power solution, the Duromax XP12000EH is an excellent alternative. This dual-fuel generator is well-made and provides excellent performance in an emergency. We highly recommend it overall.
Pros
Cons
Duromax XP12000EH Technical Specs
| Product Information | Values |
| --- | --- |
| Weight | 260 lbs |
| Running Watts on gasoline | 9500 watts |
| Surge Wattage on gasoline | 12000 watts |
| Run Time on gasoline | 8.83 hours |
| Run Time on propane | 7.2 hours |
| Fuel | Gasoline & propane |
| Noise Level | 74 dB at 1/4 load |
| Running Watts on propane | 11400 watts |
| Surge Watts on propane | 9025 watts |
| Tank Capacity on gasoline | 8.3 gallons |
| Tank Capacity on propane | 40 gallons |
The Duromax XP12000EH portable generator can be started manually or electrically. This is the dual-fuel version of the XP12000e, both of which are known as the "Beast" of portable generators.
Because this hybrid generator can also run on propane, it has lower running expenses than a traditional portable generator that runs just on gasoline.
In general, gasoline generators provide more power than natural gas or liquid propane generators.
On gasoline, the XP12000EH offers 600 watts higher surge power and 475 watts running power. When you consider how many home appliances you can operate simultaneously with this much power, the difference in power is virtually small.
Propane is frequently a more cost-economical fuel than gasoline since it is more efficient. If you simply looked at the specifications, though, you would not come to that conclusion.
According to the specifications, the engine is more energy efficient while running on gasoline since it has a longer run duration and a smaller tank capacity than when running on propane. When you consider this, as well as propane's lower power output, it's easy to see why gasoline is still a preferred generator fuel.
On the other hand, propane prices are often lower than gasoline prices, resulting in lower running expenses. Furthermore, because propane does not deteriorate like gasoline, it is considerably easier and less economical to store.
With this hybrid, though, you don't have to choose between fuel and electricity. You may move between the choices very smoothly to practically quadruple the overall run duration.
The fuel alternatives alone give just a normal run time, but if you fill both tanks, you get a total run duration of 16 hours before refilling. This is a low-maintenance solution for a long-lasting, reliable power supply.
There's no disputing that this isn't a quiet generator, but with a 457cc engine spinning at 3600 RPM, that shouldn't come as a surprise. The rated noise level is 74 decibels, but still manageable given the amount of power it delivers.
The voltmeter and the MX2 switch turning knob occupy the two largest places on the control panel. Finally, each outlet has its own circuit breaker, as well as a DC protector for when you're charging a battery.
One 50-amp power outlet for heavy-duty application, two GFCI 20-amp outlets, one 120-volt 30-amp twist lock, and a changeable 120 volts/240-volt alternative. Because of the variety of outlets, this is an excellent choice for powering equipment and other heavy-duty applications.
What We Like
What We Don't Like
Conclusion
If you're searching for a dual-fuel model for your home, the Duromax XP12000EH is a great option. The fact that it can operate on two different types of fuel is by far the most appealing feature. It has enough power to keep your household running as normally as possible during storms.
Make the most of its versatility by using it to power your household appliances in both gasoline and LPG modes.
DuroMax XP12000EH Generator-12000 Watt Gas or Propane Powered Home Back Up & RV Ready
Since this is the biggest generator on the list, you should expect it to weigh significantly more than the others.
This generator is very heavy at 260lbs, but thanks to the built-in wheels and collapsible handles, you can easily carry it around to just about anywhere you can need it.
The DuroMax XP12000EH model has an easy-to-use control panel and is perfect for running various appliances, tools, or even bigger appliances such as A/C systems or heaters for your campers or RV, making this model a great backup power source.
Plug in almost anything to the two 120V-20A outlets, one 120V-30A twist lock outlet, one 120/240V-50A heavy duty outlet and one 120/240V-30A twist lock outlet.
The 457cc engine will generate 18 horsepower (can handle heavy loads) and will be paired with an 8.3 gallon fuel tank and propane tank hookups. You should expect a run time of 8.83 hours on gasoline and 7.2 hours on propane.
Read Next: