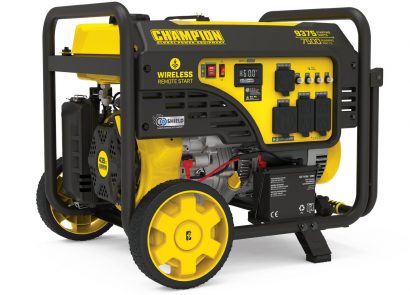 Key Features
Wattage (Gas): 9,375 W / 7,500 W
THD: < 20%
Noise Level: 74 dBA
Fuel Type: Gasoline
RV Ready: No
Run Time@ 25% load: Unspecified
Run Time@ 50% load: 8 h
Weight: 198.4 lbs
We are proud of our independence and have no ties to manufacturers. To maintain our objectivity, we do not accept free products. Our income is generated by advertising fees paid by retailers for qualifying purchases.
Description
The Champion 201158 has a 439 cc OHV 4-stroke engine that runs on oil. It gives out 120/240V, runs on gasoline, and has a running wattage of 7,500W and a peak wattage of 9,375W. The generator has both a traditional pull-start and a simple, elegant electric starter (battery included). It has a noise level of 74 dBA (A tad noisier than a vacuum cleaner). The 201158 can also be started from a distance, which makes it even more convenient (key fob included). With a full tank, the 201158 can run for about 8 hours at 0.5 load (using about 0.71 GPH of fuel), since it can hold 5.7 gallons of fuel. Due to the 201158's relatively high THD (20%), it's not a good idea to power sensitive electronics with it.
Outlets
There are 6 AC outlets on the control panel: two 120V 20A (5-20R) GFCI duplexes, a 120/240V 30A (L14-30R) receptacle, and a 120/240V 50A (14-50R) receptacle.
Since it has a 14-50R outlet, this Champion unit is ready for use with an RV with a 50-amp service.The 201158 also has a twist-lock L14-30R receptacle, which makes it ready for a transfer switch.It is easy to connect to a breaker box and can power your home if the power goes out.
Features
The 201158's control panel has an Intelligauge meter that shows voltage, frequency, and lifetime hours.
This makes it easy to keep track of its status and activity.A built-in fuel gauge makes it easy and quick to check how much gas is in the generator.For safety, the generator has an automatic low oil shut-off and an overload protection (circuit breaker), so you can use it without worrying.Volt GuardTM, which is built into Champion, protects your equipment and appliances from voltage spikes.The unit also has CO ShieldTM technology, which keeps an eye on the amount of poisonous carbon monoxide (CO) gas that builds up in the generator when the engine is running.CO ShieldTM automatically turns off the engine and lights up a red LED if it finds high levels of CO gas.It's a nice extra safety measure, but don't forget to take your generator outside at all times.Along with the basic paperwork and an owner's manual, which will help you start the generator right away, the Champion 201158 comes with oil, a funnel, and a key fob.
Mobility
The Champion 201158 is 28.5 inches long, 26.1 inches wide, and 25.2 inches high.
Together with its traditional, open-frame design, they support the generator and allow it to be raised above the ground.The design works well in rough places and for hard outdoor use.Even though this generator is technically "portable" in the sense that it can be moved, it is very hard to move by hand because it weighs 198.4 pounds.But its wheel kit (dia:9.5) makes up for the fact that it is hard to move around ") and a folding handle that makes it easy to move once it's on the ground.
Product Videos
The following charts show how some of the most important features of the Champion-201158 compare to other generators with the same power output.
**Fuel efficiency is give in relative percentage, 0 being the lowest and 1 being the highest value. Please see below specification table for actual value.
Specifications
Generic
| | |
| --- | --- |
| Inverter | No |
| Fuel efficiency | 0.206 gal/kWh |
| Parallel capable | No |
| RV ready | No |
| Fuel | Gasoline |
| Engine | 439 cc OHV 4-stroke |
| Starting system | Recoil, Electric, Remote |
| Voltage | AC: 120/240V 60 Hz |
Power
| | | |
| --- | --- | --- |
| | Gasoline | Propane |
| Running watts | 7,500 W | n/a |
| Starting watts | 9,375 W | n/a |
| Running amps (@120/240V) | 62.5/31.3 amps | n/a |
| Peak amps (@120/240V) | 78.1/39.1 amps | n/a |
| Run time @50% load | 8 h | n/a |
| Run time @25% load | Unspecified | n/a |
Control Panel
| | |
| --- | --- |
| GFCI outlets | Yes |
| Covered outlets | Yes |
| Automatic Voltage Regulator | Yes |
| AC outlets | 1x 120/240V 30A (L14-30R); 1x 120/240V 50A (14-50R) |
| DC outlets | No |
| Data center | VFT |
| Indicators | No |
| Fuel tank | Steel, 5.7 gal |
| Fuel gauge | Yes |
Mixed
| | |
| --- | --- |
| Weight | 198.4 lbs |
| Approx. dimen. (L x W x H) | 28.5 x 26.1 x 25.2 in |
| Noise (lower limit) | 74 dBA |
| THD | < 20% |
| Compliance | CARB, EPA, ANSI/PGMA G300-2018 |
| Security | Low oil, overload and Volt Guard™ surge protection, CO monitoring |
| Spark arrestor | Yes |
| Accessories included | Oil, funnel, key fob, battery, and wheel kit |
| Warranty | 3 years |
We compared more than 500 portable generators at 50% load. We found that there is "skewed right" distribution for the difference between 50% load and 25% load and the median comes at 1.43. With this number we converter all the 25% load runtime to 50% load. Same with the propane efficiency, where median is 1.38.

For some generators where propane runtime was not given, we used NIST 1994 GGE (Gasoline Gallon Equivalent) formula: 5.66 lbs. of propane = 1 gal of gasoline. All propane runtime is for 20 lbs. propane tank (4.7 gallons).

Unlike many other sites, we actually tried to find out information about each of the above requirements. However, we are human and are therefore capable of the odd oversight or mistake. Please let us know if you spot any missing or erroneous values so that we can fix them.
About the Manufacturer
A US-based producer of power equipment, Champion Power Equipment was established in 2003.
The comparatively tiny business has established a name for itself in the portable generator market as well as the larger power equipment market, with a concentration on heavy duty machinery like log cutters, snow blowers, chipper shredders, etc.Their whole product line is American-engineered.The corporation does not, however, disclose the country of origin of its parts.
Warranty Information
There is a warranty on the Champion 201158 for up to 3 years.
This warranty may not cover all parts of the generator or may only cover certain parts.Champion's warranty policies can tell you more about how long the warranty on a Champion generator lasts.You can also call their customer service line at 1-877-338-0999.